Welcome to ISEE Young 2021!
ISEE Europe and the Swiss Tropical and Public Health Institute (Swiss TPH) are pleased to virtually welcome you to the 4th Early Career Researchers Conference on Environmental Epidemiology.
ISEE Young targets early career researchers, including students (MSc, PhD), postdocs and assistant professors, to promote scientific communication and discussion in environmental epidemiology, to foster collaborations, and to exchange experiences and new ideas in the field of environmental epidemiology.
The meeting will be held online on Thursday 18 and Friday 19 February 2021 and will be hosted from Basel, Switzerland. We expect to virtually gather around 200 researchers who are passionate about public health and the environment.
The local organizing committee values scientific conferences as a great way to network, collaborate and exchange with other scientists. Even though the conference will be held online, we will ensure that there are plenty of opportunities for young scientists to network and exchange.
We look forward to seeing you online!
Swiss TPH is associated with the University of Basel, and combines research, services, and education and training at the local, national and international level. Over 850 people from more than 70 nations work at Swiss TPH, researching infectious and non-communicable diseases, environment, society and health as well as health systems and interventions.
The local organizing committee for ISEE Young 2021 is largely from the research unit Environmental Exposures and Health (EEH) within the Department of Epidemiology and Public Health (EPH). Our research focuses on health in relation to the many environmental exposures: including air pollution, noise, electromagnetic fields, heatwaves, green space and airborne pollen.


1 July 2020 Conference announcement and call for abstracts
1 October 2020 Conference registration opens
23 October 2020 Extended submission deadline for scientific abstracts (originally 16 October 2020!)
16 November 2020 Abstract acceptance notification
15 January 2021 Final conference programme published
15 January 2021 Registration deadline for abstract presenters
11 February 2021 Registration deadline for other attendees
17 February 2021 Kick-off event & evening pubquiz
18 February 2021 Conference opens
19 February 2021 Conference closes
Programme and Organisation
Our main conference days are 18 and 19 February 2021, with kick-off social events on 17 February. The programme includes a diverse mix of scientific sessions, interactive networking sessions and even fitness opportunities! The online conference access details will be communicated to the conference participants shortly before the conference. Times in the programme refer to Central European Time (CET).
In this pre-conference peer mentoring session, join a reflection on career paths with ISEE Young keynote speakers and session chairs, as well as some invited guests from beyond academia. After a "fireside chat" with keynote speaker Virissa Lenters and ISEE Young chairs Marloes Eeftens, Tamara Schikowski and Payam Dadvand, network in groups of 3 around professional development. Space is limited and restricted to ISEE Young registrants and invited guests only.
Morning online yoga & Pilates classes
Professional teachers Sarah and Marcella will help you warm up for the conference with a yoga class on Thursday and Pilates on Friday morning from 7:45-8:45. We recommend that you set up with a yoga mat and wear comfortable clothes. Feel free to join, no need to sign up.
Want to know what to expect? Check out Sarah's & Marcella's websites below.
Yoga with Sarah: https://www.sarah.yoga/
Pilates with Marcella: https://www.pilates-myofascialtraining.ch/

Maria Foraster (PhD)

Barcelona Institute for Global Health

Overview on health effects of transportation noise

Melissa Penny (Prof)

Swiss Tropical and Public Health Institute

Mathematical modelling to address contemporary issues in infectious

diseases and global health

Virissa Lenters (PhD)

Julius Center for Health Sciences and Primary Care

Urbanisation and our microbiome

Nina Iszatt (PhD)

Norwegian Institute of Public Health

The microbiome: where environmental pollutants meet you
Panel discussion – Learning from COVID-19 pandemic: opportunities and challenges for young environmental epidemiologists
Join us in this inspiring special plenary session with renowned scientists Andy Haines (LSHTM, UK), Barbara Hoffmann (University of Düsseldorf) and Manolis Kogevinas (ISGlobal, Spain) as they discuss the impact of the Covid-19 pandemic on current environmental epidemiology research. They will chat about what they consider to be the lessons learnt from this crisis in terms of changing priorities, plans and ways of communicating.
Topics of submitted abstracts include:

Aging

Air pollution

Allergies

Biomass burning

Cancer

Cardio-metabolic outcomes

Covid-19

Children's health

Endocrine disorders/endocrine system

Environmental contaminants & pesticides

Environmental disasters

Epigenetics&-omics

Environmental equity

Exposome, biomarkers

Exposure assessment

Food and nutrition

Gene environment interactions

Green space, blue space, built environment

Health impact assessment/risk assessment
Indoor environment

Live-stock exposures and health

Methodological advances

Microbiome

Mobility, physical activity and health

Neurological outcomes: neurodevelopment, neurobehavioral effects, neurodegenerative outcomes

Noise

Occupational exposures and health

Radiation: EMF, mobile phones, UV

Reproductive and perinatal outcomes

Respiratory outcomes

Risk communication

Spatial epidemiology and GIS

Susceptible/vulnerable subgroups

Toxicology

Water

Weather and climate
We have decided to replace the poster sessions with speed talks, giving everyone the opportunity to present to an audience. All conference contributions are promoted by a "Tweeser", shown throughout the conference to help participants navigate the programme, and provide a novel way to get a swift overview of the latest science!
The Classic Oral Conference Presentation
The "classic" conference presentations are 15 minutes total. This allows you to present your research in maximum 10 minutes with the remaining time for questions from the audience and 1-minute transition time between the speakers. This format allows the speaker to explain a few interesting side-analyses and technical details, but we urge you to keep a strict time limit.
The Speed Talk
Speed talk speakers have only 3 minutes to present their key ideas, results and the implications of their research in a short, dynamic talk. We will allow for 1-minute transition time between the speakers. Speakers may bring visual aid if they choose (e.g. Powerpoint, props), but are discouraged from using text on these slides. A single question may be asked after the talk, speakers are asked to remain in the online room for further questions after the session. Session chairs are asked to observe the time limit strictly, in order to give all speakers the opportunity to present their work. Please prepare well, so you are not forced to abruptly cut your presentation.
The "Tweeser"
The "Tweeser" is a cross-breed between a tweet and a teaser. It is short, snappy and captures the essence of your research and why it matters. The tweeser is a maximum 280-character teaser message with one picture. Rather than explaining all the complexity of your research, the tweeser is an invite to the other attendees to talk to you in person and to come and see your talk. Not sure how? Please see the image below for the idea.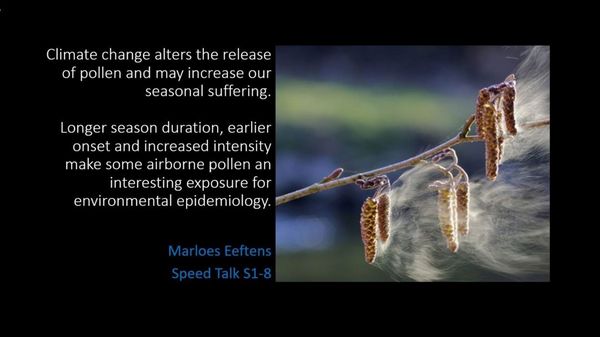 All abstracts will be reviewed by several members of the scientific organizing committee. They will rate your abstract, and try to honour your preferences regarding the presentation format. Scores will also be used to select the outstanding abstract award.
At the Closing Session of the conference, awards will be presented to:
The authors of outstanding abstract

The best speed talk presentation
The speed talk presentations will be assessed by popular vote during the conference. The best speed talk presenter from each of the 6 speed talk sessions will have the opportunity to give their presentation in plenary, on the last day of the conference.
- Student (MSc, PhD) + ISEE membership*: CHF 90

- Early career researcher** + ISEE membership*: CHF 130
- ISEE member***: CHF 50

- Non-ISEE member: CHF 150
* Registration includes a student or early career ISEE membership at a discounted rate (75%).
** Early career researcher (less than 5 years of experience from terminal degree).
*** Member rates are available for ISEE members. Before registering for the conference, attendees may join ISEE or renew their ISEE membership online. Session chairs and members of the scientific committee are also required to register.