CANCELLED until further notice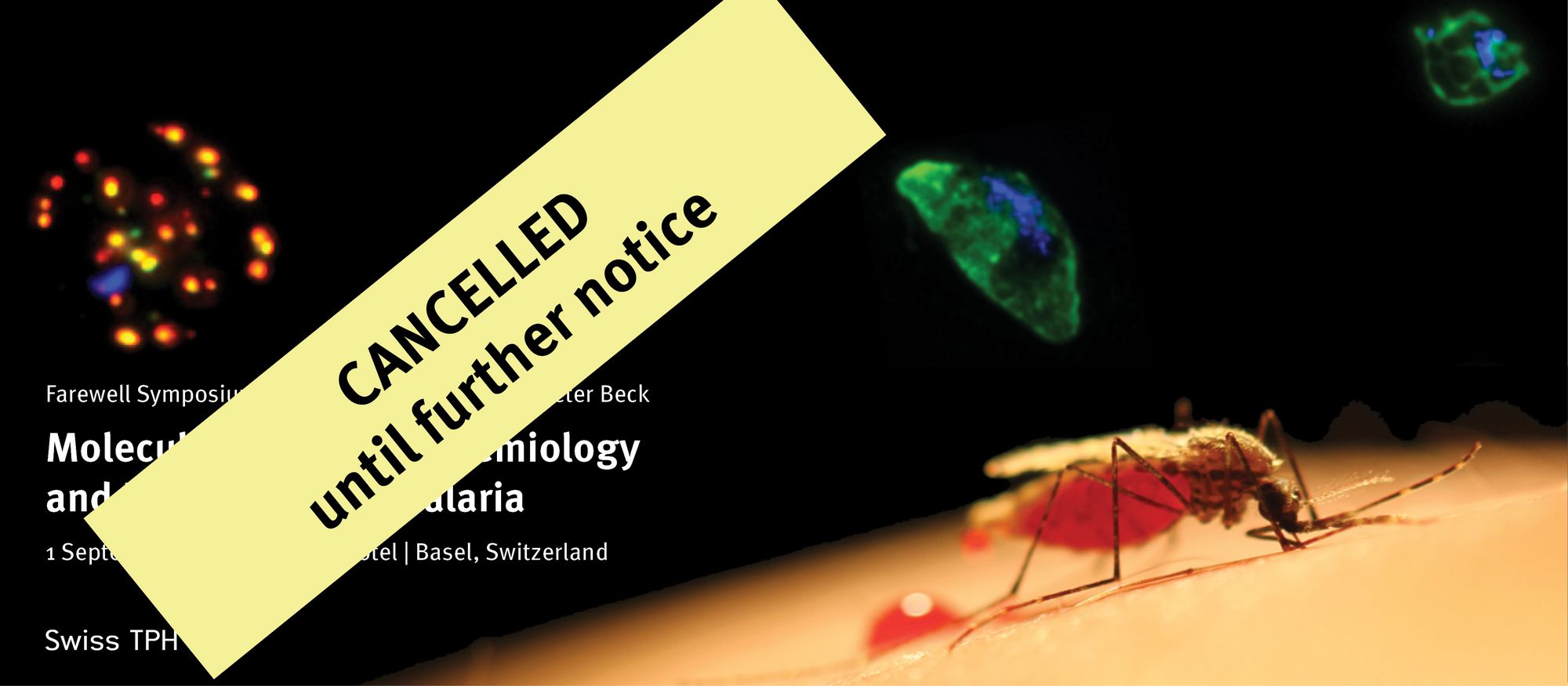 Molecular research approaches are instrumental in deepening our understanding of how pathogens cause infection, survive and multiply within their hosts, or spread among their host population.
The Swiss Tropical and Public Health Institute (Swiss TPH) is delighted to announce a one-day symposium on Molecular Biology, Epidemiology and Diagnostics of Malaria, paying tribute to the great scientific achievements and passionate work of our dear colleagues Prof. Ingrid Felger and Prof. Hans-Peter Beck over the past 25 years at Swiss TPH. The stimulating scientific programme will feature talks from former students, long-standing colleagues and world-leaders in these respective fields of scientific inquiry.

{"locations":{"0":{"title":"Albania, Qark Diber","description":"<p><\/p>","latitude":"41.6837288","longitude":"20.4219532","projects":{"0":{"uid":276,"title":"Health for All Programme, Albania","detailUrl":"https:\/\/www.swisstph.ch\/en\/projects\/project-detail\/project\/health-for-all-programme-albania"}}},"1":{"title":"Albania, Qark Fier","description":"<p><\/p>","latitude":"40.7266459","longitude":"19.54383","projects":{"0":{"uid":276,"title":"Health for All Programme, Albania","detailUrl":"https:\/\/www.swisstph.ch\/en\/projects\/project-detail\/project\/health-for-all-programme-albania"}}},"2":{"title":"Belo Horizonte, Brazil","description":"<p><\/p>","latitude":"","longitude":"","projects":{"0":{"uid":467,"title":"Missed opportunities to responding to violence against women and girls in the health sector","detailUrl":"https:\/\/www.swisstph.ch\/en\/projects\/project-detail\/project\/missed-opportunities-to-responding-to-violence-against-women-and-girls-in-the-health-sector"}}},"3":{"title":"Brazil, S\u00e3o Paulo","description":"<p><\/p>","latitude":"","longitude":"","projects":{"0":{"uid":713,"title":"Urban Population Health Initiative","detailUrl":"https:\/\/www.swisstph.ch\/en\/projects\/project-detail\/project\/urban-population-health-initiative"}}},"4":{"title":"Bundesamt f\u00fcr Gesundheit, Bern-Liebefeld, Switzerland","description":"<p><\/p>","latitude":"46.9299146","longitude":"7.4190876","projects":{"0":{"uid":93,"title":"TB - Delay and TB-Knowledge Study","detailUrl":"https:\/\/www.swisstph.ch\/en\/projects\/project-detail\/project\/tb-delay-and-tb-knowledge-study"}}},"5":{"title":"Burundi, Bujumbura","description":"<p><\/p>","latitude":"-3.3679295","longitude":"29.3327213","projects":{"0":{"uid":182,"title":"Health Systems Support Project in the Great Lakes Region: Rwanda and Burundi","detailUrl":"https:\/\/www.swisstph.ch\/en\/projects\/project-detail\/project\/health-systems-support-project-in-the-great-lakes-region-rwanda-and-burundi"}}},"6":{"title":"Butha-Buthe district","description":"<p><\/p>","latitude":"","longitude":"","projects":{"0":{"uid":427,"title":"Community-Based chronic disease Care Lesotho: A 5-year implementation research programme to tackle non-communicable diseases in rural Lesotho","detailUrl":"https:\/\/www.swisstph.ch\/en\/projects\/project-detail\/project\/community-based-chronic-disease-care-lesotho-a-5-year-implementation-research-programme-to-tackle-non-communicable-diseases-in-rural-lesotho"},"1":{"uid":643,"title":"Effect of Offering ART refill through community health workers versus clinic-based follow-up after home-based same-day ART initiation in rural Lesotho: The VIBRA cluster-randomized clinical trial","detailUrl":"https:\/\/www.swisstph.ch\/en\/projects\/project-detail\/project\/effect-of-offering-art-refill-through-community-health-workers-versus-clinic-based-follow-up-after-home-based-same-day-art-initiation-in-rural-lesotho-the-vibra-cluster-randomized-clinical-trial"}}},"7":{"title":"Butha-Buthe district (10 clinics)","description":"<p><\/p>","latitude":"","longitude":"","projects":{"0":{"uid":639,"title":"Peer-Educator-coordinated vs nurse-coordinated ART refill for adolescents and young adults living with HIV in Lesotho \u2013 a cluster randomized clinical trial","detailUrl":"https:\/\/www.swisstph.ch\/en\/projects\/project-detail\/project\/peer-educator-coordinated-vs-nurse-coordinated-art-refill-for-adolescents-and-young-adults-living-with-hiv-in-lesotho-a-cluster-randomized-clinical-trial"}}},"8":{"title":"Calabar (Cross River state)","description":"<p><\/p>","latitude":"4.9708536","longitude":"8.3029691","projects":{"0":{"uid":401,"title":"Effects of engaging communities in decision making and action through traditional and religious leaders on fully vaccination rates; a cluster randomised control trial","detailUrl":"https:\/\/www.swisstph.ch\/en\/projects\/project-detail\/project\/effects-of-engaging-communities-in-decision-making-and-action-through-traditional-and-religious-leaders-on-fully-vaccination-rates-a-cluster-randomised-control-trial"}}},"9":{"title":"Cameroon","description":"<p><\/p>","latitude":"7.365302","longitude":"12.343439499999988","projects":{"0":{"uid":503,"title":"BACKUP Health Cameroon - Improving Access to Malaria Care and Services for Children Under Five: Pilot Project","detailUrl":"https:\/\/www.swisstph.ch\/en\/projects\/project-detail\/project\/backup-health-cameroon-improving-access-to-malaria-care-and-services-for-children-under-five-pilot-project"}}},"10":{"title":"Cameroon, Bamenda Province","description":"<p><\/p>","latitude":"5.9663074","longitude":"10.1287621","projects":{"0":{"uid":277,"title":"Providing Technical Assistance to a Church Based Health Insurance Scheme (BEPHA) in Cameroon","detailUrl":"https:\/\/www.swisstph.ch\/en\/projects\/project-detail\/project\/providing-technical-assistance-to-a-church-based-health-insurance-scheme-bepha-in-cameroon"}}},"11":{"title":"Chad, Danamadji, Moyen Chari","description":"<p><\/p>","latitude":"8.4630112","longitude":"17.7140768","projects":{"0":{"uid":498,"title":"Support Project for the Health Districts in Chad - Yao and Danamadji","detailUrl":"https:\/\/www.swisstph.ch\/en\/projects\/project-detail\/project\/support-project-for-the-health-districts-in-chad-yao-and-danamadji"}}},"12":{"title":"Chad, Yao, Batha","description":"<p><\/p>","latitude":"12.8789296","longitude":"17.5204067","projects":{"0":{"uid":498,"title":"Support Project for the Health Districts in Chad - Yao and Danamadji","detailUrl":"https:\/\/www.swisstph.ch\/en\/projects\/project-detail\/project\/support-project-for-the-health-districts-in-chad-yao-and-danamadji"}}},"13":{"title":"Chronic Disease Clinic Ifakara, Tanzania","description":"<p><\/p>","latitude":"-8.145152","longitude":"36.6819253","projects":{"0":{"uid":82,"title":"Chronic Disease Clinic Project, Ifakara","detailUrl":"https:\/\/www.swisstph.ch\/en\/projects\/project-detail\/project\/chronic-disease-clinic-project-ifakara"}}},"14":{"title":"CSRS, Abidjan, C\u00f4te d'Ivoire","description":"<p><\/p>","latitude":"5.3305813","longitude":"-4.1302747","projects":{"0":{"uid":488,"title":"PHISICC - Operations Research to Improve Paper-based Health Information Systems in Comprehensive Care","detailUrl":"https:\/\/www.swisstph.ch\/en\/projects\/project-detail\/project\/phisicc-operations-research-to-improve-paper-based-health-information-systems-in-comprehensive-care"}}},"15":{"title":"Global","description":"<p><\/p>","latitude":"","longitude":"","projects":{"0":{"uid":663,"title":"Rapid Assessment of World Bank COVID-19 Multi-Phase Programmatic Approach","detailUrl":"https:\/\/www.swisstph.ch\/en\/projects\/project-detail\/project\/rapid-assessment-of-world-bank-covid-19-multi-phase-programmatic-approach"}}},"16":{"title":"Global","description":"<p><\/p>","latitude":"","longitude":"","projects":{"0":{"uid":695,"title":"Consultancy to lead development of a global consensus statement on HIV-related stigma","detailUrl":"https:\/\/www.swisstph.ch\/en\/projects\/project-detail\/project\/consultancy-to-lead-development-of-a-global-consensus-statement-on-hiv-related-stigma"}}},"17":{"title":"Global","description":"<p><\/p>","latitude":"","longitude":"","projects":{"0":{"uid":521,"title":"OpenMalaria Workflow and OpenMalariaUtilities R Packages","detailUrl":"https:\/\/www.swisstph.ch\/en\/projects\/project-detail\/project\/openmalaria-workflow-and-openmalariautilities-r-packages"}}},"18":{"title":"IHI, Bagamoyo, Tanzania","description":"<p><\/p>","latitude":"-6.4375716","longitude":"38.9034202","projects":{"0":{"uid":402,"title":"Malaria Course in Tanzania and Laos","detailUrl":"https:\/\/www.swisstph.ch\/en\/projects\/project-detail\/project\/malaria-course-in-tanzania-and-laos"}}},"19":{"title":"IHI, Ifakara, Tanzania","description":"<p><\/p>","latitude":"-8.1461539","longitude":"36.6807318","projects":{"0":{"uid":402,"title":"Malaria Course in Tanzania and Laos","detailUrl":"https:\/\/www.swisstph.ch\/en\/projects\/project-detail\/project\/malaria-course-in-tanzania-and-laos"}}},"20":{"title":"Iran, Tehran","description":"<p><\/p>","latitude":"35.6967326","longitude":"51.2093934","projects":{"0":{"uid":78,"title":"Air quality in Tehran, Iran: Evaluating acute health effects and modeling the long-term spatial variability","detailUrl":"https:\/\/www.swisstph.ch\/en\/projects\/project-detail\/project\/air-quality-in-tehran-iran-evaluating-acute-health-effects-and-modeling-the-long-term-spatial-variability"}}},"21":{"title":"Kyrgyzstan","description":"<p><\/p>","latitude":"41.143957","longitude":"70.2524039","projects":{"0":{"uid":28,"title":"Health Facilities Autonomy, Kyrgyzstan, Phase I","detailUrl":"https:\/\/www.swisstph.ch\/en\/projects\/project-detail\/project\/health-facilities-autonomy-kyrgyzstan-phase-i"}}},"22":{"title":"Leribe district (2 clinics)","description":"<p><\/p>","latitude":"","longitude":"","projects":{"0":{"uid":639,"title":"Peer-Educator-coordinated vs nurse-coordinated ART refill for adolescents and young adults living with HIV in Lesotho \u2013 a cluster randomized clinical trial","detailUrl":"https:\/\/www.swisstph.ch\/en\/projects\/project-detail\/project\/peer-educator-coordinated-vs-nurse-coordinated-art-refill-for-adolescents-and-young-adults-living-with-hiv-in-lesotho-a-cluster-randomized-clinical-trial"}}},"23":{"title":"Lesotho, Butha-Buthe","description":"<p><\/p>","latitude":"-28.7661258","longitude":"28.1550004","projects":{"0":{"uid":188,"title":"Improving the HIV care cascade in Lesotho: Towards 90-90-90 - A research collaboration with the Ministry of Health","detailUrl":"https:\/\/www.swisstph.ch\/en\/projects\/project-detail\/project\/improving-the-hiv-care-cascade-in-lesotho-towards-90-90-90-a-research-collaboration-with-the-ministry-of-health"}}},"24":{"title":"Lwala Hospital","description":"<p><\/p>","latitude":"","longitude":"","projects":{"0":{"uid":700,"title":"Efficacy and safety of fexinidazole in patients with Human African Trypanosomiasis (HAT) due to Trypanosoma brucei rhodesiense: a multicentre, open-label clinical trial","detailUrl":"https:\/\/www.swisstph.ch\/en\/projects\/project-detail\/project\/efficacy-and-safety-of-fexinidazole-in-patients-with-human-african-trypanosomiasis-hat-due-to-trypanosoma-brucei-rhodesiense-a-multicentre-open-label-clinical-trial"}}},"25":{"title":"Mokhotlong district","description":"<p><\/p>","latitude":"","longitude":"","projects":{"0":{"uid":427,"title":"Community-Based chronic disease Care Lesotho: A 5-year implementation research programme to tackle non-communicable diseases in rural Lesotho","detailUrl":"https:\/\/www.swisstph.ch\/en\/projects\/project-detail\/project\/community-based-chronic-disease-care-lesotho-a-5-year-implementation-research-programme-to-tackle-non-communicable-diseases-in-rural-lesotho"},"1":{"uid":643,"title":"Effect of Offering ART refill through community health workers versus clinic-based follow-up after home-based same-day ART initiation in rural Lesotho: The VIBRA cluster-randomized clinical trial","detailUrl":"https:\/\/www.swisstph.ch\/en\/projects\/project-detail\/project\/effect-of-offering-art-refill-through-community-health-workers-versus-clinic-based-follow-up-after-home-based-same-day-art-initiation-in-rural-lesotho-the-vibra-cluster-randomized-clinical-trial"}}},"26":{"title":"Mokhotlong district (8 clinics)","description":"<p><\/p>","latitude":"","longitude":"","projects":{"0":{"uid":639,"title":"Peer-Educator-coordinated vs nurse-coordinated ART refill for adolescents and young adults living with HIV in Lesotho \u2013 a cluster randomized clinical trial","detailUrl":"https:\/\/www.swisstph.ch\/en\/projects\/project-detail\/project\/peer-educator-coordinated-vs-nurse-coordinated-art-refill-for-adolescents-and-young-adults-living-with-hiv-in-lesotho-a-cluster-randomized-clinical-trial"}}},"27":{"title":"Moldova, Briceni District","description":"<p><\/p>","latitude":"48.3607007","longitude":"27.0688529","projects":{"0":{"uid":270,"title":"Healthy Life Project - Reducing the Burden of Non-Communicable Diseases in Moldova","detailUrl":"https:\/\/www.swisstph.ch\/en\/projects\/project-detail\/project\/healthy-life-project-reducing-the-burden-of-non-communicable-diseases-in-moldova"}}},"28":{"title":"Moldova, Edine\u021b District","description":"<p><\/p>","latitude":"48.1667494","longitude":"27.2890086","projects":{"0":{"uid":270,"title":"Healthy Life Project - Reducing the Burden of Non-Communicable Diseases in Moldova","detailUrl":"https:\/\/www.swisstph.ch\/en\/projects\/project-detail\/project\/healthy-life-project-reducing-the-burden-of-non-communicable-diseases-in-moldova"}}},"29":{"title":"Moldova, F\u0103le\u0219ti District","description":"<p><\/p>","latitude":"47.5619006","longitude":"27.6908464","projects":{"0":{"uid":270,"title":"Healthy Life Project - Reducing the Burden of Non-Communicable Diseases in Moldova","detailUrl":"https:\/\/www.swisstph.ch\/en\/projects\/project-detail\/project\/healthy-life-project-reducing-the-burden-of-non-communicable-diseases-in-moldova"}}},"30":{"title":"Moldova, Orhei District","description":"<p><\/p>","latitude":"47.3826576","longitude":"28.8246698","projects":{"0":{"uid":270,"title":"Healthy Life Project - Reducing the Burden of Non-Communicable Diseases in Moldova","detailUrl":"https:\/\/www.swisstph.ch\/en\/projects\/project-detail\/project\/healthy-life-project-reducing-the-burden-of-non-communicable-diseases-in-moldova"}}},"31":{"title":"Moldova, Ungheni District","description":"<p><\/p>","latitude":"47.2305557","longitude":"27.7813662","projects":{"0":{"uid":270,"title":"Healthy Life Project - Reducing the Burden of Non-Communicable Diseases in Moldova","detailUrl":"https:\/\/www.swisstph.ch\/en\/projects\/project-detail\/project\/healthy-life-project-reducing-the-burden-of-non-communicable-diseases-in-moldova"}}},"32":{"title":"NCTLD in Georgia","description":"<p><\/p>","latitude":"41.7221738","longitude":"44.8057879","projects":{"0":{"uid":484,"title":"Performance of Cepheid GeneXpert\u00ae Omni for early detection of tuberculosis and multidrug resistant tuberculosis in adults with presumptive pulmonary tuberculosis at Primary Health Care facilities in Georgia in a controlled phased pre and post intervention","detailUrl":"https:\/\/www.swisstph.ch\/en\/projects\/project-detail\/project\/performance-of-cepheid-genexpertr-omni-for-early-detection-of-tuberculosis-and-multidrug-resistant-tuberculosis-in-adults-with-presumptive-pulmonary-tuberculosis-at-primary-health-care-facilities-in-georgia-in-a-controlled-phased-pre-and-post-intervention"}}},"33":{"title":"Nepal","description":"<p><\/p>","latitude":"28.383911","longitude":"81.8861267","projects":{"0":{"uid":54,"title":"Troubleshooting Support of Insurance Management Information System (IMIS) Software","detailUrl":"https:\/\/www.swisstph.ch\/en\/projects\/project-detail\/project\/troubleshooting-support-of-insurance-management-information-system-imis-software"}}},"34":{"title":"Papua New Guinea","description":"<p><\/p>","latitude":"-6.2454379","longitude":"144.4646209","projects":{"0":{"uid":38,"title":"Evaluation of the Papua New Guinea National Malaria Control Program, 2015-2017","detailUrl":"https:\/\/www.swisstph.ch\/en\/projects\/project-detail\/project\/evaluation-of-the-papua-new-guinea-national-malaria-control-program-2015-2017"},"1":{"uid":273,"title":"Evaluation of the Papua New Guinea National Malaria Control Program, 2018-2020","detailUrl":"https:\/\/www.swisstph.ch\/en\/projects\/project-detail\/project\/evaluation-of-the-papua-new-guinea-national-malaria-control-program-2018-2020"},"2":{"uid":30,"title":"Understanding heterogeneities in the epidemiology of malaria in Papua New Guinea","detailUrl":"https:\/\/www.swisstph.ch\/en\/projects\/project-detail\/project\/understanding-heterogeneities-in-the-epidemiology-of-malaria-in-papua-new-guinea"},"3":{"uid":33,"title":"Understanding the human, parasite, vector and environmental interactions driving residual malaria transmission in Papua New Guinea","detailUrl":"https:\/\/www.swisstph.ch\/en\/projects\/project-detail\/project\/understanding-the-human-parasite-vector-and-environmental-interactions-driving-residual-malaria-transmission-in-papua-new-guinea"}}},"35":{"title":"Peru, Puno","description":"<p><\/p>","latitude":"-15.8327551","longitude":"-70.0595173","projects":{"0":{"uid":168,"title":"Climatic Services with Emphasis on the Andes in Support of Decisions Phase 2","detailUrl":"https:\/\/www.swisstph.ch\/en\/projects\/project-detail\/project\/climatic-services-with-emphasis-on-the-andes-in-support-of-decisions-phase-2"}}},"36":{"title":"Rumphi District Hospital","description":"<p><\/p>","latitude":"","longitude":"","projects":{"0":{"uid":700,"title":"Efficacy and safety of fexinidazole in patients with Human African Trypanosomiasis (HAT) due to Trypanosoma brucei rhodesiense: a multicentre, open-label clinical trial","detailUrl":"https:\/\/www.swisstph.ch\/en\/projects\/project-detail\/project\/efficacy-and-safety-of-fexinidazole-in-patients-with-human-african-trypanosomiasis-hat-due-to-trypanosoma-brucei-rhodesiense-a-multicentre-open-label-clinical-trial"}}},"37":{"title":"Rwanda, Kigali, Programme de Sant\u00e9 Grands Lacs","description":"<p><\/p>","latitude":"-2.0218599","longitude":"30.0456175","projects":{"0":{"uid":182,"title":"Health Systems Support Project in the Great Lakes Region: Rwanda and Burundi","detailUrl":"https:\/\/www.swisstph.ch\/en\/projects\/project-detail\/project\/health-systems-support-project-in-the-great-lakes-region-rwanda-and-burundi"}}},"38":{"title":"Senegal, Dakar","description":"<p><\/p>","latitude":"14.7323917","longitude":"-17.4581596","projects":{"0":{"uid":713,"title":"Urban Population Health Initiative","detailUrl":"https:\/\/www.swisstph.ch\/en\/projects\/project-detail\/project\/urban-population-health-initiative"}}},"39":{"title":"South Africa, Cape Town","description":"<p><\/p>","latitude":"-33.9293581","longitude":"18.3851775","projects":{"0":{"uid":434,"title":"Joint South Africa and Swiss Chair in Global Environmental Health","detailUrl":"https:\/\/www.swisstph.ch\/en\/projects\/project-detail\/project\/joint-south-africa-and-swiss-chair-in-global-environmental-health"}}},"40":{"title":"St. Francis Referral Hospital, Ifakara, Tanzania","description":"<p><\/p>","latitude":"-8.145152","longitude":"36.6819253","projects":{"0":{"uid":82,"title":"Chronic Disease Clinic Project, Ifakara","detailUrl":"https:\/\/www.swisstph.ch\/en\/projects\/project-detail\/project\/chronic-disease-clinic-project-ifakara"},"1":{"uid":402,"title":"Malaria Course in Tanzania and Laos","detailUrl":"https:\/\/www.swisstph.ch\/en\/projects\/project-detail\/project\/malaria-course-in-tanzania-and-laos"}}},"41":{"title":"Swiss TPH","description":"<p><\/p>","latitude":"47.5559331","longitude":"7.5751376","projects":{"0":{"uid":40,"title":"Global Malaria Technical & Training Support Package - phase 2","detailUrl":"https:\/\/www.swisstph.ch\/en\/projects\/project-detail\/project\/global-malaria-technical-training-support-package-phase-2"},"1":{"uid":94,"title":"Infectious and non-communicable health conditions among East African immigrants at arrival and post integration in Switzerland","detailUrl":"https:\/\/www.swisstph.ch\/en\/projects\/project-detail\/project\/infectious-and-non-communicable-health-conditions-among-east-african-immigrants-at-arrival-and-post-integration-in-switzerland"},"2":{"uid":402,"title":"Malaria Course in Tanzania and Laos","detailUrl":"https:\/\/www.swisstph.ch\/en\/projects\/project-detail\/project\/malaria-course-in-tanzania-and-laos"}}},"42":{"title":"Tajikistan, Dushanbe","description":"<p><\/p>","latitude":"38.5614373","longitude":"68.7115418","projects":{"0":{"uid":272,"title":"Enhancing Primary Health Care Services Project, Tajikistan","detailUrl":"https:\/\/www.swisstph.ch\/en\/projects\/project-detail\/project\/enhancing-primary-health-care-services-project-tajikistan"},"1":{"uid":92,"title":"Medical Education Reform Project Tajikistan, Phase III","detailUrl":"https:\/\/www.swisstph.ch\/en\/projects\/project-detail\/project\/medical-education-reform-project-tajikistan-phase-iii"}}},"43":{"title":"Tanzania, Dodoma region","description":"<p><\/p>","latitude":"-5.8101638","longitude":"34.9258657","projects":{"0":{"uid":340,"title":"Health Promotion and System Strengthening Project Exit Phase III","detailUrl":"https:\/\/www.swisstph.ch\/en\/projects\/project-detail\/project\/health-promotion-and-system-strengthening-project-exit-phase-iii"}}},"44":{"title":"Tanzania, Morogoro region","description":"<p><\/p>","latitude":"-7.8822758","longitude":"35.7841448","projects":{"0":{"uid":340,"title":"Health Promotion and System Strengthening Project Exit Phase III","detailUrl":"https:\/\/www.swisstph.ch\/en\/projects\/project-detail\/project\/health-promotion-and-system-strengthening-project-exit-phase-iii"}}},"45":{"title":"Tanzania, Shinyanga region","description":"<p><\/p>","latitude":"-3.3558508","longitude":"32.0838674","projects":{"0":{"uid":340,"title":"Health Promotion and System Strengthening Project Exit Phase III","detailUrl":"https:\/\/www.swisstph.ch\/en\/projects\/project-detail\/project\/health-promotion-and-system-strengthening-project-exit-phase-iii"}}},"46":{"title":"Tanzania, Zanzibar, Pemba","description":"<p><\/p>","latitude":"-5.210556","longitude":"39.725","projects":{"0":{"uid":358,"title":"The Last Mile: Novel Tools and Strategies for Breaking Schistosomiasis Transmission","detailUrl":"https:\/\/www.swisstph.ch\/en\/projects\/project-detail\/project\/the-last-mile-novel-tools-and-strategies-for-breaking-schistosomiasis-transmission"},"1":{"uid":134,"title":"Zanzibar Elimination of Schistosomiasis Transmission","detailUrl":"https:\/\/www.swisstph.ch\/en\/projects\/project-detail\/project\/zanzibar-elimination-of-schistosomiasis-transmission"}}},"47":{"title":"Tanzania, Zanzibar, Unguja","description":"<p><\/p>","latitude":"-6.143563","longitude":"39.3133837","projects":{"0":{"uid":274,"title":"Reactive Case Detection in Zanzibar: Effectiveness and Cost","detailUrl":"https:\/\/www.swisstph.ch\/en\/projects\/project-detail\/project\/reactive-case-detection-in-zanzibar-effectiveness-and-cost"},"1":{"uid":134,"title":"Zanzibar Elimination of Schistosomiasis Transmission","detailUrl":"https:\/\/www.swisstph.ch\/en\/projects\/project-detail\/project\/zanzibar-elimination-of-schistosomiasis-transmission"}}},"48":{"title":"Tirana, Albania","description":"<p><\/p>","latitude":"","longitude":"","projects":{"0":{"uid":467,"title":"Missed opportunities to responding to violence against women and girls in the health sector","detailUrl":"https:\/\/www.swisstph.ch\/en\/projects\/project-detail\/project\/missed-opportunities-to-responding-to-violence-against-women-and-girls-in-the-health-sector"}}},"49":{"title":"Viet Nam, Hanoi","description":"<p><\/p>","latitude":"21.9903611","longitude":"102.4960898","projects":{"0":{"uid":75,"title":"Air pollution in Hanoi, Vietnam: Evaluating effects and impact on hospital admissions in children","detailUrl":"https:\/\/www.swisstph.ch\/en\/projects\/project-detail\/project\/air-pollution-in-hanoi-vietnam-evaluating-effects-and-impact-on-hospital-admissions-in-children"}}},"50":{"title":"Vietnam, Ho Chin Minh City","description":"<p><\/p>","latitude":"","longitude":"","projects":{"0":{"uid":713,"title":"Urban Population Health Initiative","detailUrl":"https:\/\/www.swisstph.ch\/en\/projects\/project-detail\/project\/urban-population-health-initiative"}}},"51":{"title":"WHO Headquarters, Geneva, Switzerland","description":"<p><\/p>","latitude":"46.2325659","longitude":"6.1281114","projects":{"0":{"uid":40,"title":"Global Malaria Technical & Training Support Package - phase 2","detailUrl":"https:\/\/www.swisstph.ch\/en\/projects\/project-detail\/project\/global-malaria-technical-training-support-package-phase-2"}}}}}
Selected projects at this location: