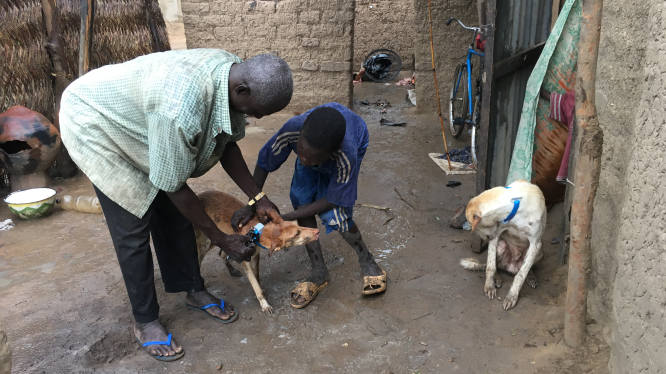 28 September is World Rabies Day
Rabies is one of the world's oldest diseases, but remains a daily threat to millions around the world, killing 59,000 people every year. In order to reach the goal of eliminating dog-mediated human rabies by 2030, integrated strategies, political will and innovations are needed.
Swiss TPH researchers edited a special edition on the elimination of dog rabies in West and Central Africa, which includes the latest results from research and practice.

Read the special edition now
Insights into COVID-19 Research
If you missed the Botnar Research Centre for Child Health's webinar series on COVID-19 research, use the link below to watch researchers, like Melissa Penny from Swiss TPH who talked about how modelling and machine learning support optimizing interventions and strategies for COVID-19.
Watch all videos
Air Pollution Is a Public Health Problem
Watch Temitope Adebayo's award-winning flash talk about air pollution being a public health problem in South Africa. As a PhD student at Swiss TPH, she aims to provide scientific evidence to strengthen air quality policy in South Africa, and ensure that air pollution becomes a priority research area.
Clean Air for blue skies
Аir pollution is the single greatest environmental risk to human health and one of the main avoidable causes of death and disease globally. The message of this first International Day of Clean Air for blue skies on 7 September 2020 is air pollution doesn't have to be a part of our collective future. We have the solutions and must take the necessary actions to beat air pollution and provide #CleanAirForAll.
Read more about Swiss TPH's research and engagement
One Health Online Course Begins on 28 September
As the COVID-19 pandemic continues, this course could not be more timely. If you've ever wondered whether physicians and veterinarians could work together more closely, join this open online course produced by the University of Basel and Swiss TPH and hosted by FutureLearn. New content covers Corona viruses in animals and humans, linking global health security with emerging infectious disease threats.
Register Now
MalariaX: Defeating Malaria from the Genes to the Globe
How can we eradicate malaria? Explore cutting-edge science and technology, and examine policies needed, to control and eliminate malaria. As part of our efforts to continue to advance malaria knowledge, the free, open-access online MalariaX course has been extended to 30 April 2021.
Enroll Today