Daniel H. Paris: Professor für Tropen- und Reisemedizin an der Universität Basel
23.11.2018
Prof. Dr. med. Daniel H. Paris, Leiter Departement Medizin am Swiss TPH, wurde auf den 1. Dezember 2018 vom Universitätsrat der Universität Basel zum Associate Professor für Tropen- und Reisemedizin gewählt. Er übernimmt damit die Nachfolge von Prof. Dr. med. Christoph Hatz.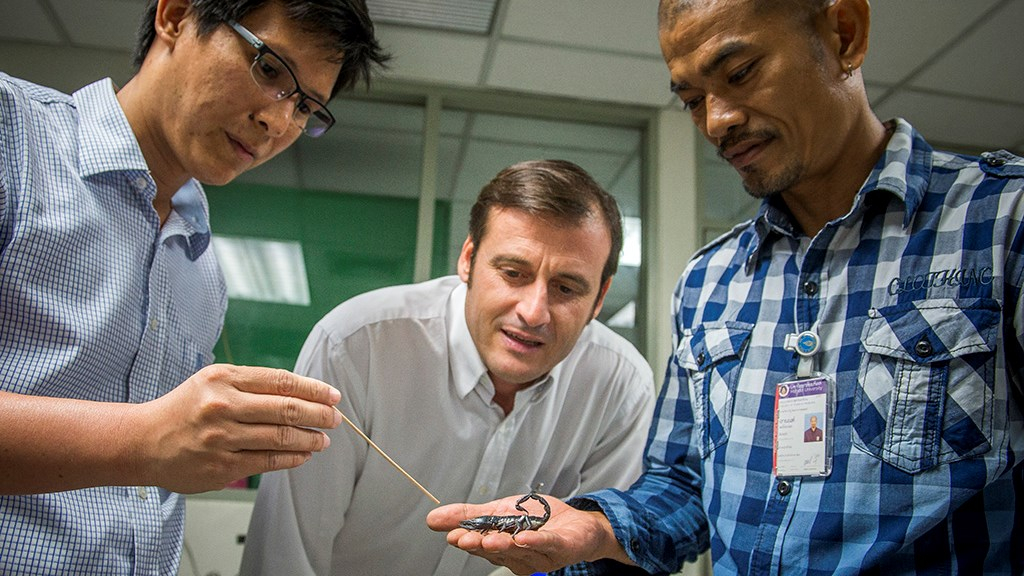 "Von Herzen gratulieren wir Daniel Paris zu dieser strukturellen Professur am Swiss TPH", sagt Jürg Utzinger, Direktor vom Swiss TPH. "Als Nachfolger von Prof. Dr. med. Christoph Hatz, kann die strategische Bedeutung der Tropen- und Reisemedizin Professur für das Swiss TPH und die Universität Basel nicht genug hervorgehoben werden. Damit sind die konsiliarischen Dienste am Swiss TPH, die Forschung, Lehre und Betreuung von Studierenden gewährleistet, was zu einer erfolgreichen Weiterentwicklung der Medizinischen Fakultät der Universität Basel beitragen wird. Ausserdem bedanke ich mich bei Prof. Dr. med. Manuel Battegay (Vorsitz), Prof. Dr. Sabina De Geest und PD Dr. Michael Mayr für die hervorragende Arbeit in der Struktur-und Berufungskommission."
International anerkannter Experte
Seit Anfang 2017 leitet Daniel Paris das Departement Medizin am Swiss TPH und gilt im Bereich der Tropen- und Reisemedizin als international anerkannter Experte und ausgewiesener Forscher. Zu seinen Interessensgebieten gehören die Ursachen von endemischen Fiebererkrankungen, Evaluierungen von diagnostischen Methoden und die Erforschung von Rickettsiosen - eine bakterielle Infektion - und typhus-ähnlichen Erkrankungen, von denen ländliche Bevölkerungen in Asien und Afrika betroffen sind.
Paris wurde 1969 in Lagos, Nigeria geboren, doktorierte 1996 nach dem Studium in Humanmedizin an der Universität Zürich und erwarb 2002 das Diplom in Tropenmedizin und -hygiene an der University of Liverpool. Darauf erwarb er im 2011 den Doktortitel PhD in Klinischer Tropenmedizin, wurde zum Dozenten und darauf im 2014 zum Associate Professor an der renommierten University of Oxford gewählt. Er ist zudem seit 2015 als Visiting Professor an der Mahidol University in Bangkok tätig, wo er weiterhin Studenten betreut.
"Grosse Bedeutung in der translationalen Medizin"
Daniel Paris, der sieben Sprachen spricht und über 29 Jahre in den Tropen verbracht hat, hegt eine grosse Leidenschaft: "Die translationale Medizin - also die Umsetzung der klinischen Forschung zur Nützlichkeit für Patienten - nimmt in der Tropen- und Reisemedizin eine immer wichtigere Stellung ein", sagt Paris.
Contact
Prof. Dr. med. Daniel Paris, Associate Professor, MD, PhD, DTMH