"It Is a Race Against Time." An Interview with Claudia Daubenberger on Establishing a Diagnostic Lab for Sars-CoV-2 in Equatorial Guinea
06.05.2020
COVID-19 poses major challenges for resource-limited countries, also when it comes to diagnostics. Swiss TPH is supporting Equatorial Guinea in establishing one of the few diagnostic laboratories for Sars-CoV-2 in the region. Claudia Daubenberger, Head of the Clinical Immunology unit at Swiss TPH, speaks in an interview about the arduous past few weeks and the challenges associated with Sars-CoV-2 diagnostics in sub-Saharan Africa.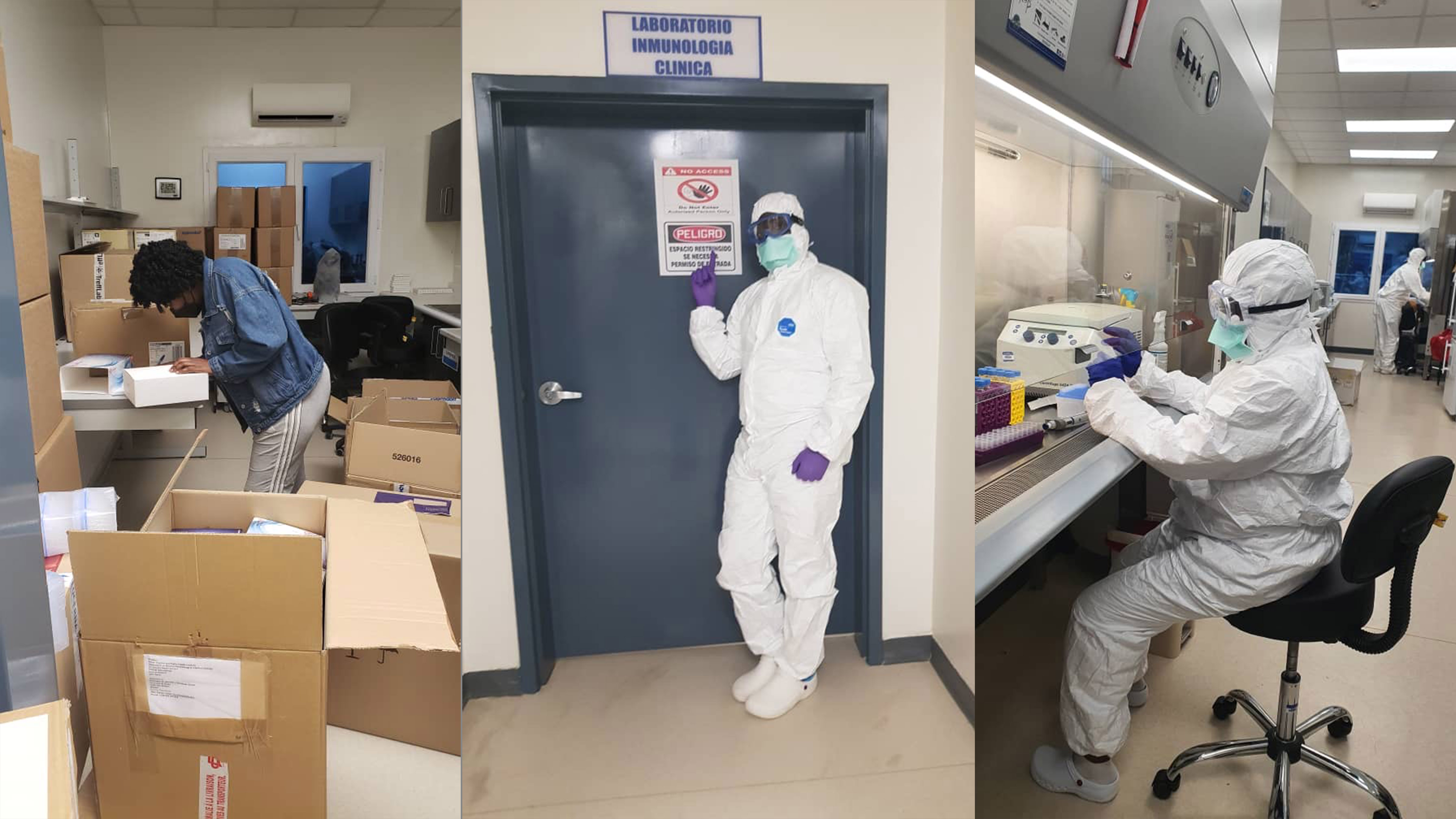 How did it come to be that Swiss TPH employees operate the only Sars-CoV-2 diagnostic laboratory in Equatorial Guinea?
Swiss TPH has been active in Equatorial Guinea for over five years. We have established one of the best-equipped laboratories in the region in order to conduct malaria vaccination research with our governmental partners, the Ifakara Health Institute (IHI), Sanaria Inc. and Medical Care Development International (MCDI). The laboratory was set up with the sole purpose to conduct epidemiological and clinical studies on malaria, and our plan was to develop it into a national reference laboratory within the next few years.
However, in January, we heard about the first suspected case of COVID-19 in Equatorial Guinea, but there was no possibility to perform a test in the country. The sample had to first be sent to Senegal and then finally - when the postal service refused - to Paris. That is when I received a call from the Deputy Minister of Health of Equatorial Guinea, His Excellency Mitoha Ondo'o Ayekaba

The Deputy Minister of Health called you directly?
Yes, I was still at the office on Socinstrasse in Basel at the time. He asked me to help his country set up a diagnostic lab for Sars-CoV-2. That was on 28 January. Since then, our team has been working tirelessly. Tobias Schindler flew to Malabo, the capital, just two days later. Immediately after his arrival, he tested the suspected case for the virus: fortunately, it was negative.
It is because of our knowledgeable colleagues from Switzerland and their generous support that we were able to carry out the first test in the region within 60 hours of this call.

What additional equipment was needed to set up the laboratory?
There was a lack of everything - reagents, laboratory materials, equipment, gloves and masks! We had to learn to perform molecular Sars-CoV-2 diagnostics at a quick pace and large scale. At present, it is a great challenge to procure the necessary material internationally. Some countries, such as the USA, have almost completely stopped exporting these goods. We were able to procure the material in Switzerland over a period of about four weeks. We then realised that the transport of the many boxes from Switzerland to sub-Saharan Africa proves to be even more complicated. DHL did not deliver anymore, and many flights in Africa were cancelled.

How did you solve this problem?
The Ministry of Health sent a private plane to the EuroAirport in Basel. The material, which weighed nearly 500 kg, arrived on Friday, 17 April, and then had to go through customs at the airport. Everything was meticulously planned: the special gloves required for laboratory operations arrived just one hour before the material was transferred.
The plane landed on 18 April at 11:06 in the morning, and was able to take off with all the necessary material 15 minutes later. We were trembling until the very end, but everything worked out as planned. The team on site - Tobias Schindler, Maximillian Mpina and Elizabeth Nyakarungu - was able to unpack the crates in Malabo that very same evening and prepare them for diagnostic use.
Since the COVID-19 outbreak began, the team has tested more than 6,270 swabs and 315 Sars-CoV-2 infections have been identified so far (as of 6 May 2020).

It sounds a bit like a thriller...
Yes, it has been an eventful few weeks, but it goes to show that international cooperation and solidarity can move mountains! I would like to thank the Swiss TPH Technical Service team, especially Fabien Haas and Thierry Brun. Without their support, the loading of the materials and the communication with the airport customs in a short period of time would not have been possible.
The team here in Basel tirelessly scoured for companies that still had supplies and personally bought disinfectant in pharmacies, which was then also shipped. The interaction with the Ministry of Health was transparent, open and constructive, which allowed us to organise and carry out the mission together within 48 hours. The cooperation with the private sector in the country was also excellent, and allowed us to mobilise the financial resources to keep the laboratory running. Because of Carlos Cortes of MCDI, the logistics of sample collection and transfer to the laboratory are well managed on site.
Unfortunately, the crisis also reveals problems: the USA, which was heavily involved in West Africa during the Ebola epidemic, has disappeared from the scene in the region. International cooperation has really collapsed. Therefore, it is all the more important to show our partners that Swiss TPH is here to stay – in partnership we can achieve great things. We will go the extra mile to support people in these times.

The government of Equatorial Guinea was able to bring the important cargo into the country by private aircraft. Other countries have fewer resources - how are they coping with the COVID 19 pandemic?
Indeed, many countries with fewer resources face a huge challenge. There is a lack of material and personnel, and molecular tests are expensive. General healthcare must be maintained, but it is at risk: health centres have closed their doors for fear of infection and measles vaccination campaigns have been interrupted. This is devastating for population health, also when it comes to the control of malaria and tuberculosis and the care of pregnant women and small children.

What can we learn from this crisis?
The importance of the World Health Organisation (WHO) in a global pandemic must be emphasised. In my view, the attacks on the WHO are completely incomprehensible. We have received quick and competent help from the WHO country representatives. Already at the beginning of March, training courses were organised and carried out in Equatorial Guinea. The WHO quickly made precise diagnostic instructions generally available. We also received support in the procurement of materials.
However, the situation in resource-limited countries has also shown that not every country has the capacity to develop its own diagnostics for pandemics at the speed in which we managed. What we are witnessing is a race against time. One idea for the future, therefore, would be to provide mobile high-tech test laboratories that could be moved as independent units at any time to outbreak regions, together with doctors and technicians. This is where Swiss TPH could contribute with its expertise and international network, so that we can transform our extensive experiences into constructive actions for the future.
Contact
Stay connected
Subscribe to our newsletter and get all the latest research news, project updates, course and event listings from Swiss TPH.