CDRI-CSRS-CC - Ecohealth and adaptation to climate change in water and health sectors in West
Project Abstract
Background: The frequency of extreme weather events associated with climate change, particularly floods, has increased in West Africa. Floods can negatively affect water quality by causing faecal pathogens contamination in riverine cities in West Africa and by changing ecological conditions for vectors of some water related disease (malaria, schistosomiasis). There is a paucity of data showing key vulnerabilities to and resilience strategies for major flooding in riverine cities of West Africa.
Aims: To assess risk factors and vulnerabilities in the face of flooding events at household and community levels, and to promote adaptation strategies focusing on water and health dimensions (water, sanitation and water related diseases).
Methods: Geographical and transversal household surveys.The household surveys are undertaken in dry and rainy seasons and are covering the entire city, following a three category stratified sampling scheme: most vulnerable to floods, most protected, and intermediary. Ecohealth approach to ensure transdisciplinarity, participation, gender and equity in the project conduct.
Results: In West African secondary cities a considerable proportion of households are still using wells as source of their drinking water while the usage of traditional latrines in the yard is also important. We found in Korhogo and Kaédi respectively : 347 and 117 wells in close proximity to streets; 60% and 12% of households having their own wells in the yard; 90% and 69% of households having latrines in the yard; and 63% and 33% of households using water from wells for drinking purposes. The main activities around the water bodies include urban agriculture, fishing and many other human-water contact induced activities (swimming, laundry ...) which involve some specific health risks. The climate changes in the area are multifaceted and by affecting water bodies and vectors ecology may have a significant impact on public health major diseases local patterns.
Conclusion: In West African riverine secondary cities, climate change may affect the health of the people living near water bodies through drinking water contanimation and through change in some water related diseases transmission dynamics. Flooding will therefore threaten on water quality and public health patterns. Adaptive management strategy for water is needed at both household and community levels.
Cissé G, Koné B, Bâ H, Mbaye I, Koba K, Utzinger J, Tanner M. Ecohealth and climate change: adaptation to flooding events in riverside secondary cities, West Africa. In: Otto-Zimmermann K, ed. Resilient cities: cities and adaptation to climate change: proceedings of the Global Forum 2010, 55-67. Dordrecht: Springer, 2011
Contact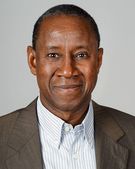 Guéladio Cissé, Professor, PhD
Dozierende (Lehre/Forschung) (SHIS 521), Head of Unit