How can we prevent the next pandemic? Swiss TPH students meet with Bill Gates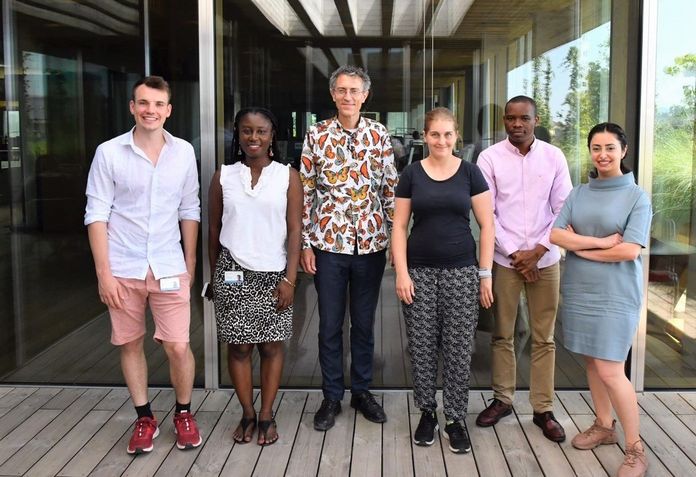 Five graduate students from Swiss TPH had the unique opportunity to participate in the Gates Notes Deep Dive on pandemic prevention. Students from all around the world came together to discuss the question: "How can we prevent the next pandemic?"
The Gates Notes Deep Dive brought together 33 graduate students who were invited to join Bill Gates for a session on the topic of pandemic prevention. Doris Osei Afriyie, Lujain Alchalabi, Salome Hosch, Daniel Kipo and Christian Lotz from Swiss TPH had the opportunity to participate in this year's Deep Dive that took place in late April.
We asked the five Swiss TPH participants what their key takeaways were from the Deep Dive. Answers ranged from high-impact innovations to the importance of building trust and partnerships, with a focus on how Swiss TPH can best serve as a national reference centre for epidemics and pandemics.
The importance of new innovations in mitigating disease spreading was high on everyone's mind.
Doris Osei Afriyie: "There is room for improvement in the area of innovations. To avoid future pandemics, we need cheaper diagnostics, better drugs or even a universal vaccine that can combat different infections."
Lujain Alchalabi: "Therapeutics is the area that needs more effort and research. We should work on therapeutics that are effective, even with high viral loads and with no interactions with other diseases or medications. The target is to develop a universal vaccine or drug that is effective against a whole virus family or a wide array of disease."
Daniel Kipo: "Swiss TPH can position itself as a national reference centre through innovation and service in detecting and diagnosing pandemic-prone diseases and developing therapeutics that can be used for the prevention or as a response to pandemics. Then continue capacity building through training and collaboration with partners, as it has been doing for many decades."
There is a strong need for high-quality data as a base for modelling and data sharing.
Doris Osei Afriyie: "Data modelling is important but we still have a long way to go for data modelling to be used as a tool to fight pandemic. I was proud to hear the shout-out given to Swiss TPH for its contribution in the field of data modelling. But more collaboration will be needed from various institutions to enhance the models and to ensure comparability."
Salome Hosch: "Without high quality data, modelling and other artificial intelligence or bioinformatics tools cannot reach their capacities and guide decisions. It requires a whole team to clean the data and make different datasets compatible and comparable to then share it with other scientists to maximize the output."
The importance of building trust and partnerships in fighting global issues is vital.
Lujain Alchalabi: "Pandemic prevention must involve community members – a lesson learnt from vaccine and mask hesitancy during COVID-19. The rapid information availability brings some challenges regarding misinformation and disinformation, however, we learned that building trust and putting the community in the centre of our efforts is the optimal approach."
Doris Osei Afriyie: "The Gates Notes Deep Dive underlined the need for collaborative and interdisciplinary approaches in disease control and elimination. Everybody is needed – including the private sector, governments, regional bodies and non-profit organizations."
Christian Lotz: "'Connection is key!' – all of the speakers repeatedly mentioned that seeing the whole picture and knowing as much as possible is vital to preventing or making it through a pandemic. I emphasise especially the connection to other people. To gain trust among the people and understanding their need is crucial when informing them or adapting things to their favour – and to avoid the spreading of misinformation. Further, the relationship between industry and politics is important to ensure the implementation of policies. Lastly, I want to mention the connection between scientists around the globe. It is highly important that scientists cooperate with other scientists to accelerate the efforts of finding cures against diseases threatening to spread globally."
A clear message was that we have to enable the people on the ground – in pandemic preparation as well as during an outbreak.
Doris Osei Afriye: "We spoke about the responsibility of richer countries to support capacity building in developing countries and ensuring the distribution of resources. One part of this is workforce development. We should empower the people who work in pandemic preparedness."
Lujain Alchalabi: "Communities' engagement was under the spotlight as it should go hand in hand with any effort in fighting pandemics. We should enable local scientists and partners on the ground with running the surveillances, reporting the data and leading the response in their localities.

The need for capacity building is closely linked to ensuring comprehensive surveillance and its response, particularly in low- and middle-income countries.
Daniel Kipo: "I learned that when dealing with pandemics, there are three important areas to consider: detection, response and prevention. I think these three areas are equally important. However, the success of prevention and response depend on effective detection. Many countries need to do more in all three areas. In particular, there is the need to improve diagnostic capacity in low- and middle-income countries, especially in genomic sequencing, due to the challenges observed in many of these countries during the initial stages of the COVID-19 pandemic."
Doris Osei Afriyie: "One take-away is the importance of surveillance. On one hand, we need to strengthen genomic sequencing infrastructures and have sound protocols to mitigate ethical concerns. On the other hand, we need to establish better surveillance-response systems, especially in low- and middle-income countries."
We wish these graduate students all the best for their future and on their mission to improve health for people around the world.