A Novel Solar Plant for the Ifakara Health Institute in Tanzania
02.07.2021
A new solar plant has been installed at the Ifakara Health Institute, a long-standing partner of Swiss TPH, which contributes to the reduction of CO₂ at this unique health research and education centre in Tanzania. Swiss and Tanzanian partners jointly financed the solar plant, which officially opened on 21 June 2021.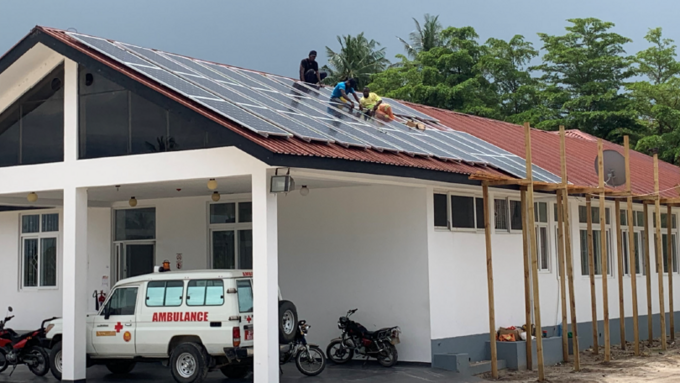 The Ifakara Health Institute (IHI) is a renowned health research organisation in Tanzania. In close partnership with Swiss TPH, a unique teaching and research ecosystem has developed over decades, which includes laboratories, teaching and research facilities and a hospital for clinical trials. Since 21 June 2021, IHI has also been a pioneer in terms of sustainable energy supply.
"The solar system is more cost-effective in the long run and guarantees an important independence from the state provider TANESCO energy," said Stefan Mörgeli, former Administrative Director and Project Manager of Swiss TPH's new building "Belo Horizonte". This is because in the past, TANESCO was not always able to supply the institute with electricity on a regular basis. As a result, IHI had to obtain expensive back-up power from diesel generators.
An improved ecological balance
Saving fossil energy has not only a financial benefit, but also an environmental one, as the solar installation will be able to save up to 100 tons of CO₂ per year. "Public and private institutions that are committed to research and implementation of the Sustainable Development Goals should lead by example with the consistent use of renewable energies," said Marcel Tanner, Director Emeritus of Swiss TPH and President of the R. Geigy Foundation (RGS). Swiss TPH and RGS have previously invested in solar power generation projects in Mazumbai, Tanzania.
Innovative infrastructure projects as a model for cooperation
Investments in sustainable infrastructure are often not the subject of bilateral and multilateral cooperation. "Many donors prefer to support scientific projects and programs instead of making long-term investments in the infrastructure of research institutions," said Jürg Utzinger, Director of Swiss TPH. "Yet sustainable energy models in particular are central to addressing the most pressing environmental challenges all over the world."
Subscribe to our newsletter and get all the latest research news, project updates, course and event listings from Swiss TPH.