A Warm Welcome to Our New Students
18.09.2023
With the start of the autumn semester, Swiss TPH warmly welcomes our new students to our bachelor's, master's and PhD programmes. Over 50 new master's and PhD students from a large variety of countries started their journey today at Swiss TPH. We also warmly welcome the new participants to our postgraduate courses.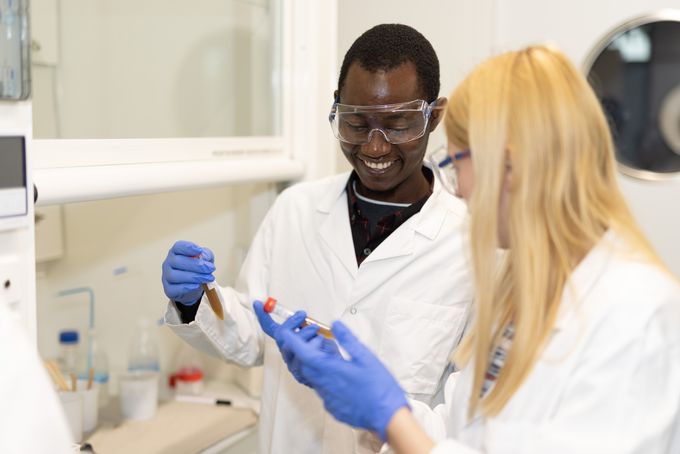 Bachelor and Master of Science programmes
"I am really excited to get to know Swiss TPH and learn more about the research the institute does, especially in the area of infectious diseases," said Salomé Lochmann who starts the Master of Science (MSc) in Infection Biology today.
31 students from 16 countries are starting the MSc programmes in Infection Biology and Epidemiology this semester. The MSc in Infection Biology analyses the complex field of host-pathogen interactions, with particular emphasis on poverty-related infectious diseases caused by parasites and bacteria. Understanding these and other aspects of infection biology provides the basis for developing novel drugs, vaccines and diagnostic tools to better manage and prevent infectious diseases. The MSc in Epidemiology has a strong focus on epidemiological principles and biostatistics and includes research work, often conducted as part of a field study at Swiss TPH. Both MSc programmes are hosted at the University of Basel and organised by Swiss TPH.
"The start of a semester is a moment of renewed excitement and opportunity," said Till Voss, Head of the Malaria Gene Regulation unit. "We are delighted to welcome new students to the MSc Infection Biology programme. Together, we will explore the mysteries of infectious diseases through immersive learning and hands-on research."
In addition to the master's programmes, Swiss TPH also offers courses for the Bachelor of Science in Biology and Bachelor of Medicine at the University of Basel, such as the 6-week block course on Infection Biology and Epidemiology.
Doctorate and PhD programmes
Today, Swiss TPH also welcomed 22 new PhD students from 19 different countries. Enrolled at the University of Basel, they will embark on their academic journeys across a wide range of research areas spanning from medical parasitology and infection biology to epidemiology, public health, and medical anthropology.
"My PhD will focus on the use and contribution of child mortality data to improve strategies that reduce child mortality in Mozambique," said Amilcar Magaço, PhD student in Epidemiology and Public Health. "I am looking forward to learn at Swiss TPH and implement my knowledge and skills after my studies to create sustainable impact in my home country."
Postgraduate courses
At the postgraduate level, we welcomed participants with diverse backgrounds to the course on International Cooperation and Global Health (in German Internationale Zusammenarbeit und Globale Gesundheit, IZGG)) and the management course Strategic Planning for Health Interventions.
The IZGG course goes back to the general tropical course first conducted in 1944. This year, 17 participants gain the necessary skills and knowledge to navigate the complexities of a globalised world by exploring topics like migration and health and intercultural communication. In the Strategic Planning for Health Interventions course, the 15 participants learn how to assess the health situation in low-resource settings in order to prioritise interventions that are consistent with existing national health policies.
Education and Training at Swiss TPH
Associated with the University of Basel, Swiss TPH offers courses in global and public health from undergraduate to postgraduate level, emphasising mutual learning as the foundation for personal and professional growth. Swiss TPH provides a unique learning experience in a wide range of topics, including international health, epidemiology, public health, infection biology, clinical practice, environment and health, and management.
Subscribe to our newsletter and get all the latest research news, project updates, course and event listings from Swiss TPH.