Altitude Positively Impacts Cardiovascular Health Peruvian Study Finds
08.02.2022
People living in high altitudes are less likely to develop metabolic syndrome, a key indicator of cardiovascular health. A study published today in PLOS One investigated the association between the prevalence of metabolic syndrome and the use of improved cook stoves in the rural Andes in Peru. While the use of these stoves was not found to be related to better metabolic health, body mass index (BMI) and altitude appear to be strong determinants of metabolic syndrome.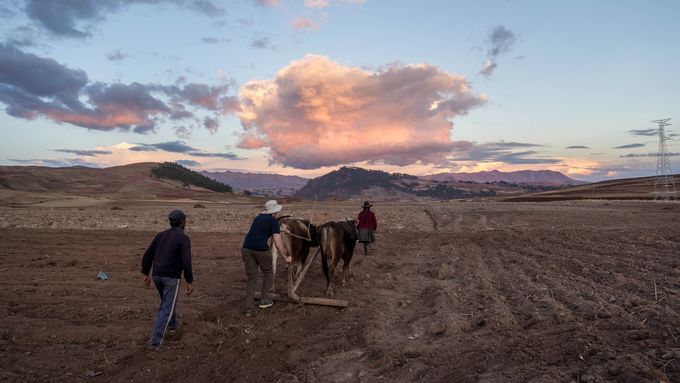 Non-communicable diseases (NCDs) are the leading cause of death worldwide. Over the last decade, the share of NCDs in adult mortality in Peru has increased, particularly due to cardiovascular disease. The diverse geography and socioeconomic inequalities in Peru are reflected in the disease burden across the country. A better understanding of local cardiovascular disease risk patterns in remote areas therefore supports national health planning.
Metabolic syndrome (MetS) is associated with an increased risk of cardiovascular disease and type 2 diabetes. In Peru, the prevalence of MetS varies between 15 and 55 %, depending on gender, region, ethnicity, urbanisation and altitude. Early detection and prevention can reduce the risk of developing cardiovascular disease.
It is known that exposure to ambient and indoor air pollution and tobacco smoke generally increases the risk of MetS. In rural Peru, over 80% of households use biomass for cooking, heating and lighting, which contributes to high levels of household air pollution.
Researchers from Swiss TPH now aimed to understand the impact of improved cookstoves and household air pollution on MetS in high altitude populations. The study, published in PLOS One on 8 February 2022, found that there was no clear correlation between the use of improved cookstoves and MetS. The prevalence of MetS was 21%; 26% in women and 13% in men.
"We saw, however, that a high BMI increases the risk of MetS and that living at high altitude seems to play an important protective role against MetS in these populations," said Giuliana Sanchez Samaniego, study author and PhD student at Swiss TPH. "Because of their farming lifestyle, people living at high altitude are more physically active and have little access to foods high in sugars and saturated fat."
In the study, as in many other intervention studies on improved biomass cookstoves, the 24-hour kitchen PM2.5 levels in the intervention groups did not meet the World Health Organization air quality standards. Nevertheless, these other studies showed that there is evidence that improved cookstoves have positive effects on other biomarkers such as blood pressure and inflammatory markers in women over 50 years and pregnant women, even if these standards are not met.
Although gender was not associated with MetS, differences in the prevalence of MetS were found in men and women overall and within groups of users of improved cookstoves and open fires. "This shows us that it is important to consider behavioural differences between women and men and geographical location when assessing the risk of cardiovascular diseases in high altitude populations, " said Daniel Mäusezahl, study co-author and group leader at Swiss TPH.
About the publication
Giuliana Sanchez-Samaniego, Daniel Mäusezahl, Cesar Carcamo, Nicole Probst-Hensch, Héctor Verastegui, Stella Hartinger. Metabolic syndrome in rural Peruvian adults living at high altitudes using differentcookstoves. PLOS One. https://doi.org/10.1371/journal.pone.0263415
The study was supported by the Schmidheiny Foundation, the Groupe de Recherche en Environnement et Santé (University of Geneva) and by the Fogarty International Center of the National Institutes of Health under Kuskaya.
Subscribe to our newsletter and get all the latest research news, project updates, course and event listings from Swiss TPH.