Gut Microbiota Influences Treatment against Parasitic Worms
25.02.2022
Almost a quarter of the world's population is at risk of helminth infections and available treatment options are limited. Therefore, a better understanding of why anti-parasitic drugs fail in certain cases is crucial. A new study by Swiss TPH sheds light on how gut bacteria affect treatment outcomes against parasitic worms. The findings were published today in the journal Nature Communications.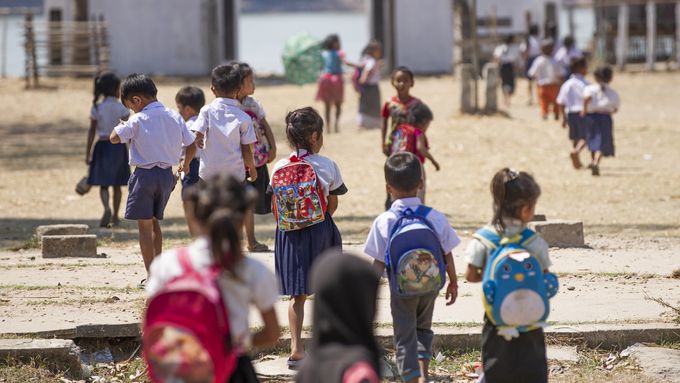 1.5 billion people worldwide, particularly in low- and middle-income countries (LMICs), are infected with soil-transmitted helminths (STHs). These parasitic worm infections cause a myriad of symptoms from diarrhoea to poor cognitive development. To control STH infections in endemic countries, the World Health Organisation (WHO) recommends Mass Drug Administration campaigns primarily targeted at school-aged children. However, anti-helminthic drugs have a variable response rate. Researchers from Swiss TPH and the Lao Tropical and Public Health Institute therefore investigated whether the efficacy of two important anti-helminthic treatments could be affected by the gut microbiome. The results of the study were published today in the peer-reviewed journal Nature Communications.
Gut microbiome composition as an indicator for drug efficacy
"We tested the hypothesis whether our gut microbiome may determine a drug's efficacy in a village in Laos," Pierre Schneeberger, microbiologist at Swiss TPH and first author of the study explained. The researchers looked at the associations between pre-treatment gut microbial composition and treatment efficacy of albendazole and a combination of albendazole and ivermectin against whipworms and hookworms. "We now hope to pinpoint determinants of treatment response in gut microbiomes to further understand the molecular mechanisms which affect treatment outcome," said Schneeberger.
For the first time, the authors showed that the bacterial composition of the gut microbiota is indeed associated with the outcome of the combination treatment. "These findings are ground-breaking for the helminth world," stated Jennifer Keiser, Head of the Helminth Drug Development unit at Swiss TPH. "This knowledge significantly bolsters our little understanding on these widely used anti-helminthics."
Implications for future research
Further research to confirm these findings is needed and a study extending to other sites in Laos, Tanzania and Côte d'Ivoire is underway. Microbiome characterization is based on costly next-generation sequencing techniques, hence the authors also urge that quick and more cost-effective alternatives will be required to screen patients in LMICs before treatment.
A centre of expertise in parasitic worm infections
Swiss TPH is a leading institution engaged in research and control of parasitic worm infections. The work encompasses basic research, drug discovery and clinical trials, evaluation and development of new diagnostic tools, modelling and mapping of risk areas and burden of disease and teaching and training in Switzerland and endemic areas. Since 2014, Swiss TPH hosts the WHO Collaborating Centre for Epidemiology and Control of Helminth Infections.
About the study
The study was conducted by the Swiss Tropical and Public Health Institute (Swiss TPH) in collaboration with the Lao Tropical and Public Health Institute. The research was funded by the European Research Council.
Schneeberger, P. et al. (2022). Different gut microbioal communities correlate with efficacy of albendazole-ivermectin against soil-transmitted helminthiases. Nature Communications. https://doi.org/10.1038/s41467-022-28658-1
Subscribe to our newsletter and get all the latest research news, project updates, course and event listings from Swiss TPH.