Interventions for Schistosomiasis Elimination in Zanzibar
27.06.2019
Schistosomiasis is a neglected tropical disease with a considerable impact on global health. More than 200 million people are infected, mainly in sub-Saharan Africa. Researchers from Swiss TPH, the Natural History Museum London and partner institutions in Zanzibar have published a study on interventions for schistosomiasis elimination in Zanzibar, which found that while schistosomiasis was eliminated as a public health problem in over 90% of the study regions, transmission is not yet interrupted and reinfection occurs. Results were published today in the Lancet Global Health.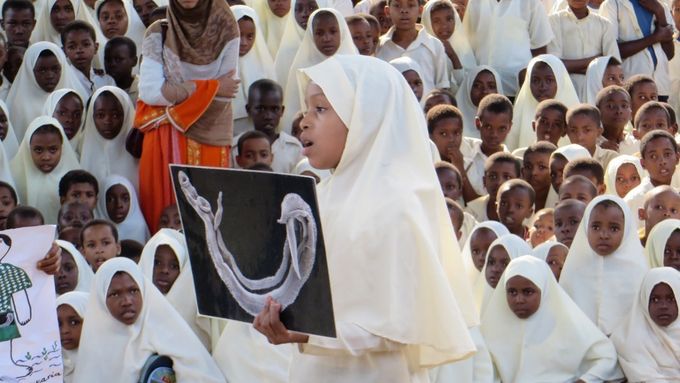 Schistosomiasis is a neglected tropical disease caused by blood flukes (parasitic flatworms). Infection occurs when individuals, particularly children, are exposed to contaminated natural freshwater while swimming, bathing or washing. Over 700 million people are at risk of infection, mainly in areas where access to clean water and sanitation is lacking. Schistosomiasis is transmitted when infective larvae released by freshwater snails penetrate human skin during contact with contaminated freshwater. When left untreated, schistosomiasis can lead to anaemia, severe damage of organs, infertility, cancer, and in the worst-case even death.
Elimination of schistosomiasis is possible
Over the past 15 years, substantial progress has been made in the control of schistosomiasis. There has been a shift from morbidity control towards elimination in selected areas, and the World Health Organization (WHO) has issued a new target: elimination of schistosomiasis as a public health problem and interruption of transmission in selected areas by 2025. Countries who have achieved interruption of transmission reported economic improvements, an integrated use of mass drug administration (MDA), snail control and improved access to clean water, sanitation and hygiene (WASH).
Swiss TPH scientists together with the Natural History Museum of London and partner institutions in Zanzibar conducted a 5-year cluster-randomised trial to assess the effect of different interventions for elimination of urogenital schistosomiasis in children aged 9-12 years from Zanzibar. Findings from the study, which were published today in the Lancet Global Health, show that urogenital schistosomiasis was eliminated as a public health problem from Zanzibar in more than 90% of areas included in the study, but transmission is not yet interrupted and reinfection occurs.
"We found that biannual praziquantel MDA applied alone or in combination with snail control or behavioural change interventions substantially reduced the prevalence and infection intensity of Schistosoma haematobium, the sole blood fluke that causes urogenital schistosomiasis," said Stefanie Knopp, Scientific Project Leader at Swiss TPH. "But biannual MDA is not sufficient to achieve interruption of transmission. Due to the considerable spatial and temporal heterogeneity of infections, there is a need to adapt and to tailor MDA and additional interventions - such as snail control and behaviour change - to the local culture and parasite micro-epidemiology and to apply the interventions rigorously and at the necessary scale."
Findings also showed that it is necessary to build on the experience gained in the trial, focusing on reducing prevalence in the remaining high-transmission areas, and introducing new surveillance-response approaches in low-transmission areas to ensure that the important gains can be maintained and advanced.
Swiss TPH: A centre of expertise in parasitic worm infections
Swiss TPH is active in a broad range of activities related to research and control of parasitic worm infections. The work comprises basic research, drug discovery and clinical trials, evaluation and development of new diagnostic tools, modelling and mapping of risk areas and burden of disease, support of countries in building their control and elimination programmes as well as teaching and training both in Switzerland and in endemic areas.
Swiss TPH is a WHO Collaborating Centre for Epidemiology and Control of Helminth Infections. The work is comprised of teaching and training, mapping of risk areas, evaluating existing and developing new diagnostic tools, screening of new substances for their efficacy and safety against parasitic worms and supporting countries in building their control programmes.
About the publication
This study received financial support from the University of Georgia Research Foundation Inc, which is funded by the Bill & Melinda Gates Foundation for these SCORE projects (prime award no 50816, sub-award no RR374-053/4893206)
Subscribe to our newsletter and get all the latest research news, project updates, course and event listings from Swiss TPH.