New Partnership to Achieve Zero Leprosy
26.01.2018
Ahead of World Leprosy Day on Sunday 28 January 2018, several leading leprosy organisations have joined forces to launch a Global Partnership for Zero Leprosy to accelerate progress towards a world without leprosy. Swiss TPH was involved in the creation of the partnership, representing the scientific community.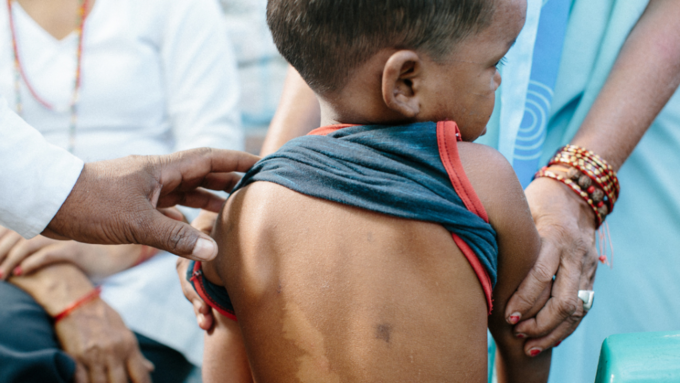 The Global Partnership for Zero Leprosy brings together organisations including the Novartis Foundation, the International Federation of Anti-Leprosy Associations (ILEP), the International Association for Integration, Dignity and Economic Advancement (IDEA), national leprosy programmes as well as academic institutions and is supported by the World Health Organization (WHO). The secretariat for the partnership will be hosted by the Task Force for Global Health in Decatur, GA, USA. Peter Steinmann, Swiss Tropical and Public Health Institute (Swiss TPH), represented the scientific community in the creation of this novel partnership.
New momentum to fight a biblical disease
"The Global Partnership for Zero Leprosy adds momentum to global efforts to end discrimination of persons affected by leprosy and to reach zero transmission and the eventual elimination of this age-old disease," said Dr. Erwin Cooreman, Team Leader of WHO's Global Leprosy Programme. The Global Partnership for Zero Leprosy will coordinate action in three key areas, namely (1) accelerating research in new diagnostic and therapeutic tools, interventions and strategies to interrupt leprosy transmission; (2) mobilising technical assistance and expertise to strengthen existing national programmes and accelerate translation of new evidence into action; and (3) increasing advocacy and fundraising.
"Swiss TPH is actively involved in establishing the proof-of-concept of novel interventions against leprosy," said Peter Steinmann, Swiss TPH. "The new partnership offers a unique platform to harness the results of the best science for the benefit of the world's poorest people."
Barriers in eliminating leprosy
Despite the availability of effective multi-drug therapy over the past 30 years, the number of newly diagnosed leprosy patients has remained above 200,000 per year for the last decade, including thousands of children. This is due to barriers such as inadequate resources and stigma, which make diagnosing and treating leprosy difficult and allow the disease to continue to spread.
Expertise in neglected tropical diseases
According to WHO, leprosy belongs to the neglected tropical diseases (NTDs). It is caused by Mycobacterium leprae and transmitted via droplets through the nose and mouth of untreated patients. Swiss TPH offers broad expertise in research, services and education and training in the field of NTDs. For instance, we develop and test drugs and combination therapies to tackle neglected helminth infections and validate novel tools and approaches for the diagnosis and integrated control of schistosomiasis. Interventions with proven efficacy are applied in endemic countries, such as post-exposure prophylaxis for leprosy control (LPEP project) in partnership with the Novartis Foundation.
Subscribe to our newsletter and get all the latest research news, project updates, course and event listings from Swiss TPH.