Swiss-Tanzanian Cooperation: Achieving Universal Health Coverage
14.02.2019
In Tanzania, two thirds of the population lacks basic health insurance. The Swiss Agency for Development and Cooperation (SDC) together with Swiss TPH and other partners now support the Tanzanian government in implementing a social health insurance scheme to address this gap. International partners gathered in Dar es Salaam on 12-13 February 2019 for a symposium to explore the role of health insurance in achieving universal health coverage.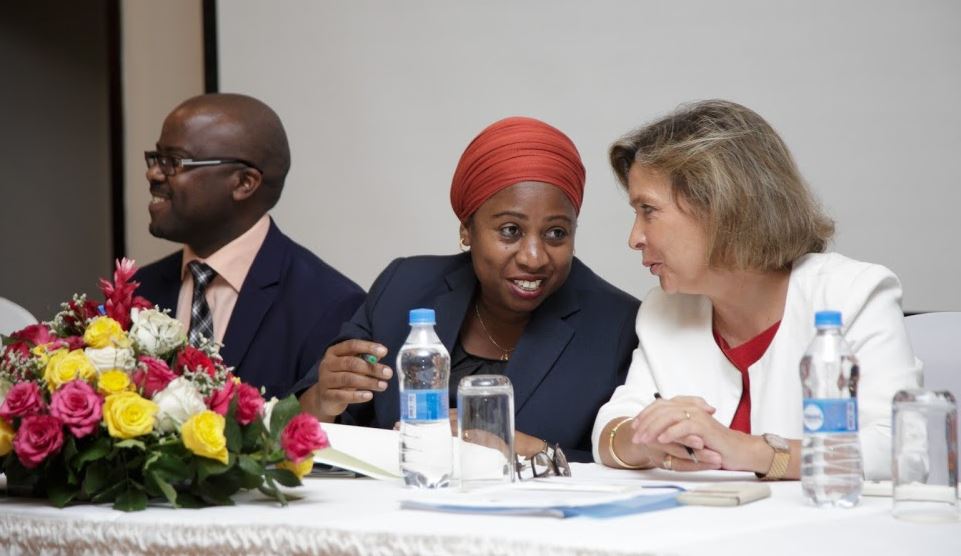 At least half of the world's population cannot access essential health services, according to a report by the World Health Organization (WHO) and the World Bank. Each year, out-of-pocket healthcare expenditures push 100 million people into extreme poverty. In Tanzania, two thirds of the population lacks basic health insurance.
In response, social health insurance schemes have been implemented to improve health and protect people against the financial consequences of illness in efforts to achieve universal health coverage (UHC). One health financing mechanism in particular, known as the Community Health Fund (CHF), has now been transformed into a viable health insurance scheme as a result of a Swiss-Tanzanian cooperation. "It has been a long process, but once done the implementation of the national health insurance will be a major national reform that will leave no one behind." said Florence Tinguely Mattli, the Swiss Ambassador to Tanzania.
Health insurance for vulnerable populations
The improved CHF model developed from a voluntary payment mechanism that financed basic health services into a fully operational and effective social health insurance scheme, which is being implemented throughout all of Tanzania. Thanks to the collaboration of the national government, local and international partners and community members, the improved CHF guarantees basic health care and hospital access for six members of one household - a first for rural Tanzania.
The process of enrollment for the insurance is efficient and transparent due to the use of mobile phone technology and robust IT software known as Insurance Management Information System (IMIS). IMIS is a comprehensive, open-source system which can be tailored to a variety of low- and middle-income countries on their path to UHC. The Swiss Agency for Development and Cooperation (SDC) and the German Federal Ministry for Economic Cooperation and Development (BMZ) are now working to bring IMIS to a global level through the openIMIS initiative, coordinated by the Deutsche Gesellschaft für Internationale Zusammenarbeit (GIZ).
Health Promotion and System Strengthening
The improved CHF was developed in the frame of the Health Promotion and System Strengthening (HPSS) project, which is funded by SDC and implemented by Swiss TPH. HPSS supports interventions in health promotion, health insurance, supply chain management and health technology maintenance. "Through health system strengthening, we can contribute to the goal of UHC and to achieving Sustainable Development Goal 3: ensure healthy lives and promote wellbeing." said Manfred Stoermer, HPSS Project Manager at Swiss TPH.
Health insurance alone is not a magic bullet
Social health insurance schemes were the topic of focus at the recent symposium on Health Insurance for the Informal Sector in Dar es Salaam, 12-13 February 2019. The symposium brought together local and international partners to discuss the progress and future direction of health insurance in Tanzania.
"The symposium is a very timely event in Tanzania's strive towards UHC. A key take away is that a national mandatory health insurance system alone is not a magic bullet for financing and accessing health care. Government subsidies to ensure inclusion of the informal sector and the poor are a key part of it." said Nina Siegert, Health Financing Policy Advisor of the Providing for Health Initiative (P4H).
Swiss-Tanzanian cooperation
In 1957, Swiss TPH founded the Ifakara Health Institute (IHI) in Tanzania, which develops new strategies to strengthen health systems and to fight poverty-related diseases such as malaria, tuberculosis and HIV/AIDS. IHI has grown into an independent institute with a strong track record in development, testing, and validating innovation for health. Since then, the Swiss-Tanzanian collaborative spirit has remained.
Contact
Stay connected
Subscribe to our newsletter and get all the latest research news, project updates, course and event listings from Swiss TPH.