Time to Deliver Zero Malaria: Invest, Innovate, Implement
27.04.2023
Although malaria can be prevented and treated, global investment in the fight against the disease is declining. World Malaria Day is therefore a reminder that the goal of a malaria-free world must remain on the political agenda, both in Switzerland and on a global scale. To mark the day, Swiss TPH experts hosted a panel discussion on 25 April 2023 to discuss the current work on malaria tools and interventions and future priorities.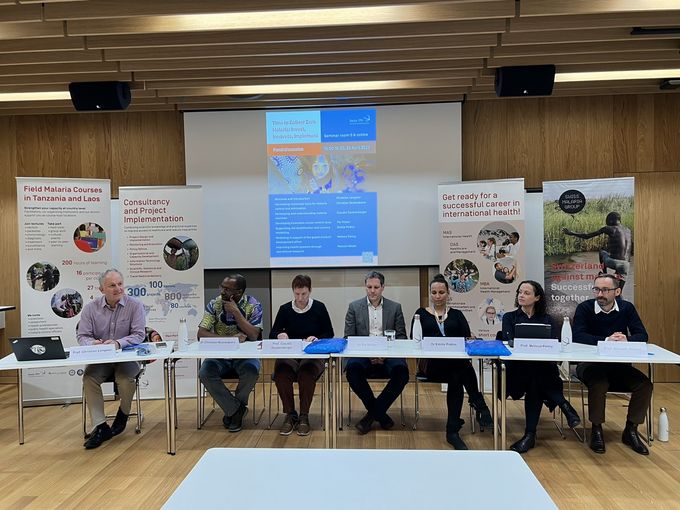 More than half the world's population is still at risk of dying from a mosquito bite. In 2021 alone, there were 247 million cases of malaria worldwide and 600,000 deaths. Most tragically, most of these deaths were children under the age of five. This year's World Malaria Day, under the motto "Time to Deliver Zero Malaria: Investment, Innovation, Implementation", aims to ensure that malaria remains firmly on the political agenda and highlights the importance of financial investment. To commemorate the day, Swiss TPH hosted a panel discussion with experts who spoke about topics ranging from molecular tools and vaccines, to global product development and the importance of improving health systems.
World Malaria Day 2023 at Swiss TPH
Swiss TPH actively contributes to global malaria control and elimination by developing new drugs and interventions, validating promising new strategies, and implementing large-scale control programmes in endemic countries, to name a few. On the occasion of World Malaria Day 2023, Swiss TPH took the opportunity to engage colleagues and communities around the world to discuss current work and future priorities in an interactive panel discussion. Swiss TPH experts outlined their contribution to malaria control and their vision for global priorities over the next three to four years.
The panel was moderated by Christian Lengeler, Head of the Health Interventions Unit in the Department of Epidemiology and Public Health at Swiss TPH and President of the Swiss Malaria Group. Lengeler emphasised that, given the annual funding gap of around USD 3.8 billion, more funding is urgently needed to continue to fight malaria. "The gap between global investment and the funds needed is growing dramatically every year," said Lengeler. "This is also a challenge for Switzerland: as one of the richest countries in the world, we should show more political will and make adequate investments to banish malaria once and for all."
Christian Nsanzabana, Genotyping group leader, spoke about the use of molecular tools for malaria control and elimination, followed by Claudia Daubenberger, Head of the Clinical Immunology unit, who spoke about vaccine development, and Pie Müller, Head of the Vector Biology unit, who pointed out the need for innovative vector control tools. Emilie Pothin, Analytics and Intervention Modelling group leader, focused on non-risk stratification and country modelling, and Melissa Penny, Head of the Disease Modelling unit, explained how modelling can support the global product development effort. Finally, Manuel Hetzel, Effectiveness and Impact group leader, reflected on how operational research can improve health systems.
This was followed by a lively round of discussion, where the approximately 150 participants on site and online were invited to engage with the speakers and ask questions.
Subscribe to our newsletter and get all the latest research news, project updates, course and event listings from Swiss TPH.