QuEST - Quality Evidence for Health System Transformation (QuEST)
Project Abstract
The QuEST Network has three primary objectives:

Establish the QuEST Network: build an operational platform and establish QuEST Centers to jointly conduct high impact R&D and build national health system research expertise; develop the Network of affiliates and processes for collaboration, researcher capacity-building, and policy translation and uptake.
Conduct high-impact R&D: prepare the evidence base for service delivery redesign, and develop and test new measurement tools including the People's Voice Survey and e-Cohorts for maternal and newborn health.
Build a movement for high quality health systems with platforms for policy translation and institutionalization: develop tools for disseminating, communicating, and operationalizing new evidence; identify a global community of stakeholders who will implement new policies; support collaborations for scaling research from regional to national levels and to additional countries.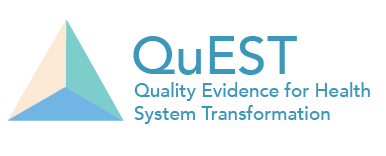 Collaborating Institutions