Fifteen times around the world in two years, 213 e-mails responded on a single day – Marcel Tanner is one of the world's most sought-after health experts. On 30 June 2015, he formally handed over the reins of Swiss TPH to Jürg Utzinger. During his 18 years in office, the institute evolved to become one of the leading points of contact for global health issues.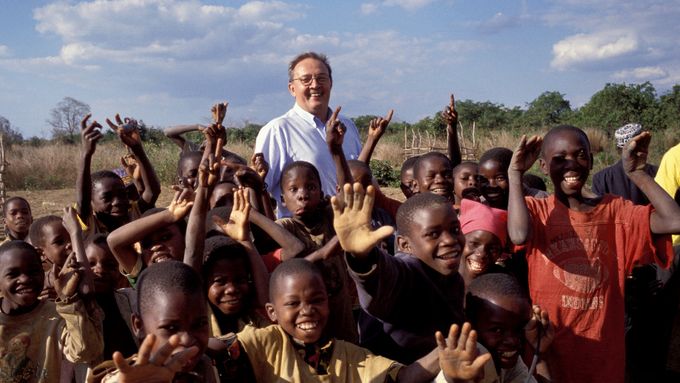 01.06.2016 by Christian Heuss
Marcel Tanner knows what he is talking about. During his time in office, Swiss TPH, which is associated with the University of Basel, developed into an institution of world renown, with more than 700 employees from all over the world working to improve and maintain good health through teaching, research and health services. Some 500 publications can be attributed to Swiss TPH experts on an annual basis and more than 60 postgraduate students earn their PhD at the institute ever year. Many return to their country of origin and continue the fight against diseases of poverty such as malaria, tuberculosis and HIV/AIDS in leading functions in health care. "Educating young people from the south is much more important than meaningless impact factors," says Marcel Tanner. "The sustainable development of health systems starts in the head."
Global Partnerships
His recipe for success? Perhaps it is the urge to really make a difference. No doubt it is his ability to bring on board different people with highly diverging interests, his aversion to the mechanics of bureaucracy and his tireless dedication. "We are all in the same boat," he likes to emphasise. And this is no empty rhetoric. Thanks to him, Swiss TPH is now represented in leading consortia for global health such as the Roll Back Malaria Partnership, the Medicines for Malaria Venture (MMV), the Drugs for Neglected Diseases initiative (DNDi) and the Bill & Melinda Gates Foundation. Marcel Tanner was a key figure in the establishment of scientific institutions in Africa, with the Ifakara Health Institute (IHI) in Tanzania and the Centre Suisse de Recherches Scientifiques (CSRS) in Côte d'Ivoire in particular having evolved into scientific hot spots in Africa under his leadership. Marcel Tanner believes that in order to secure a sustainable future, the countries of sub-Saharan Africa need not only development funding but strong scientific institutions.
On the shores of the Kilombero River in Tanzania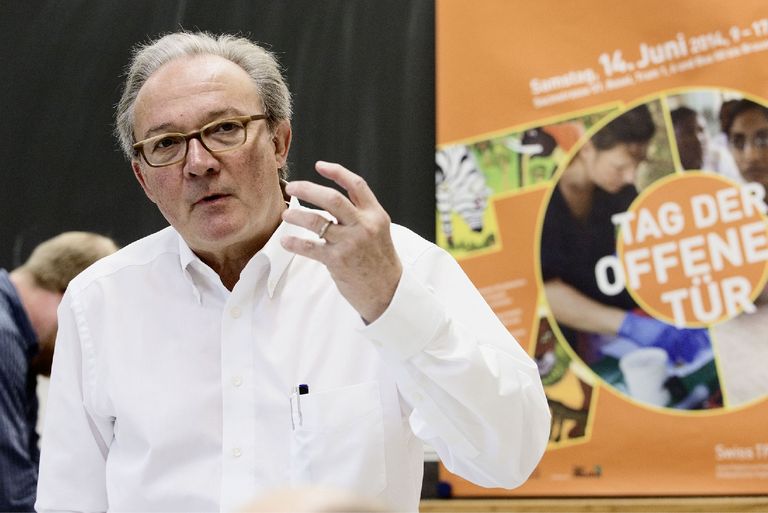 Speaking at the Open Day of Swiss TPH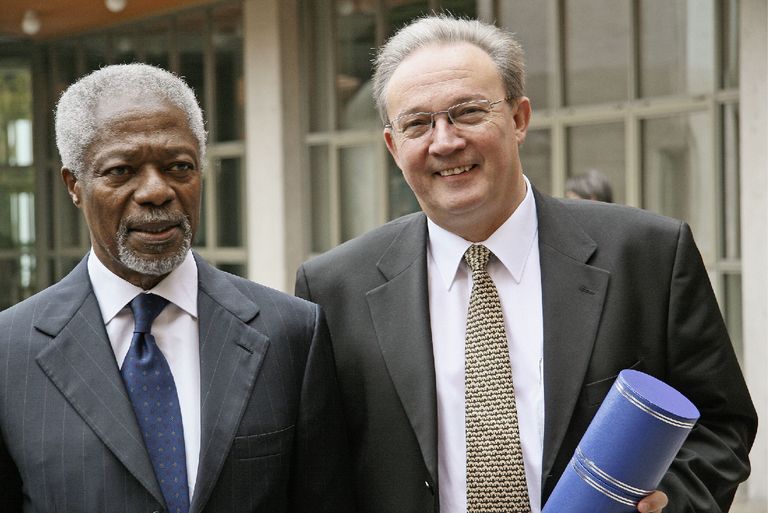 With UN Secretary-General Kofi Annan Receiving a Honorary Doctorate From the University of Neuchâtel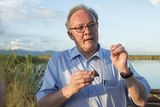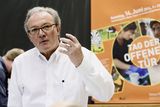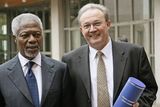 Marcel Tanner draws circles on a blank piece of paper: a round centre and oval petals. "A successful institute develops like a flower," states the epidemiologist with a love of metaphor. He says that a well-developed centre and strong roots are important. In a demanding scientific environment certain projects may wither, but the plant must always be able to produce new buds.
Parasites, People and Health Systems
New drugs, vaccines and diagnostics: all possible means will have to be mobilised in the fight against diseases of poverty such as malaria, tuberculosis and African sleeping sickness. But this is not enough. Functioning health systems are also required, as they are the only way to enable these "magic bullets" to reach the people who need them. And this is why Marcel Tanner, who continues to work at full throttle on developing a malaria vaccine, encouraged a transdisciplinary approach at Swiss TPH. Today, it is common practice for experts from a wide range of disciplines to work and develop ideas together.
Marcel Tanner handed over the reins of Swiss TPH to Jürg Utzinger on 30 June 2015 and refers to himself as "retired, but not tired". We are grateful to see him continue to travel the world in the fight against global epidemics and weak health systems.
Marcel Tanner (Director of Swiss TPH from 1997 to 2015)
In Appreciation of Marcel Tanner
Expressing our appreciation of Marcel Tanner in just a few lines is an impossible task. After all, the list of his achievements is almost endless. Today, thanks to Marcel Tanner, Swiss TPH is a renowned partner worldwide in the search for solutions to urgent health problems. During his time in office, the institute's budget increased fourfold; the number of PhD students – in particular from Africa and Asia – and the workforce as a whole increased significantly. At the same time, the number of academic publications in renowned specialist periodicals also rose considerably. Swiss TPH is represented by innovative research and service projects in over 80 countries on all continents.
Alongside his dedication to fighting diseases of poverty and improving health care in many countries of Africa and Asia, Marcel Tanner also focused on local and national health issues. He maintained excellent relationships with the University of Basel, the governments of the cantons of Basel-Landschaft and Basel-Stadt, the federal government and many private foundations. This approach enabled him to lay the foundation for the future of Swiss TPH in a new location at the Switzerland Innovation Park BaselArea in Allschwil.
Not only are his achievements impressive – but how he did it is also worthy of recognition. Marcel Tanner is a tireless professional. For him, the concept of work-life balance is most certainly not a priority. There is no country in Africa (and there are only a few worldwide) he has not visited. He responds to e-mails at all times of the day and night.
Marcel Tanner has a flair for motivating and inspiring people. He treats everyone as equals, regardless of whether the person concerned is a farmer from the Kilombero District in Tanzania, a student or Bill Gates. "We are all in the same boat," he says. And this is an image that will undoubtedly continue to guide us!
Thank you, Marcel Tanner, for everything!
Professor Felix Gutzwiller,
President of the Board of Governors from 1999 to 2015