HIV in sub-Sahara Africa: Testing and Treatment Start at Home Improves Therapy Outcome
Home-based HIV testing and prompt treatment with antiretroviral therapy increases the number of patients under treatment as well as treatment success. This is the key result of a clinical trial in Lesotho carried out by the Swiss Tropical and Public Health Institute, in collaboration with SolidarMed and the Government of Lesotho. The results published today in the Journal of the American Medical Association (JAMA) lead the way for future treatment strategies against HIV/AIDS in sub-Sahara Africa.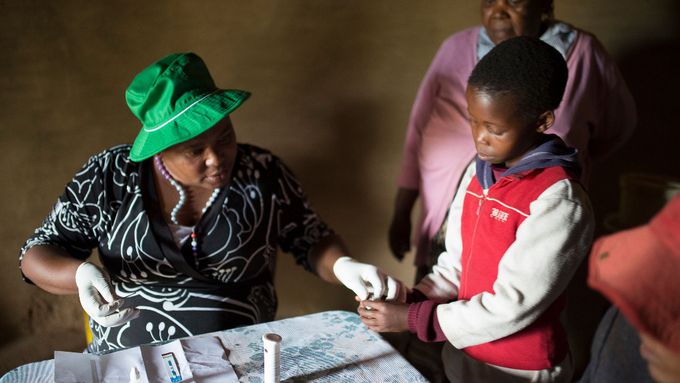 Lesotho, in southern Africa, is one of the worst hit countries by the HIV/AIDS epidemic worldwide. Indeed, a quarter of the adult population is infected with HIV. Many people however do not know their HIV status and, hence, are not undergoing treatment. In the remote mountainous regions of Lesotho, access to HIV testing and treatment is especially challenging. Bad roads and the need to walk for hours to access the nearest health centre prevents patients from beginning antiretroviral therapy (ART) or causes them to interrupt treatment prematurely.
A clinical study, designed by Niklaus Labhardt and his group at the Swiss Tropical and Public Health Institute (Swiss TPH) validated a new approach. Field teams from SolidarMed, a Swiss NGO, visited remote villages in the North of Lesotho. Community health counsellors and trained-nurses approached every village household and offered a voluntary HIV test to the residents. Those who tested positive received information about ART and were offered to commence therapy at home on the same day. This approach allowed patients to start therapy without having to attend a distant clinic.
An important step towards achieving the 90-90-90 targets
"With this strategy, we reach people living in remote rural areas who would normally not get tested or start the lifesaving ART. The nearest clinic is often too far away and the journey too expensive, " said principal investigator and HIV specialist, Niklaus Labhardt, currently at the University Hospital Basel. "With this simple strategy, we can offer patients faster and more successful therapy options." The results demonstrate a proof-of concept of this novel approach and were published today in the Journal of the American Medical Association (JAMA) and presented at the "Conference on Retroviruses and Opportunistic Infections" in Boston.
Compared to standard strategies, the number of treated patients increased significantly. Three months after the initial HIV-test at home, 69% of patients were undergoing treatment – an increase of 26% over the standard approach (43%). Adherence to the therapy was also higher among patients. A year after starting therapy, HIV was no longer detectable in half of the patients, meaning that they will not develop AIDS and infect other people with HIV. In contrast, only one-third of those following the conventional treatment strategy had undetectable viruses after one year.
The study is one of the first clinical trials to test a strategy for reaching the 90-90-90 objectives of the World Health Organization (WHO) and the UN programme, UNAIDS. The 90-90-90 targets postulate that by 2020, 90% of HIV-infected people should know their HIV status, at least 90% of those testing positive should receive ART and in 90% of those undergoing therapy, the virus is suppressed. ART has both a therapeutic and a preventive effect, as people undergoing ART cannot transmit HIV to their sexual partners.
"Our study is an important step toward 90-90-90," said Niklaus Labhardt. "This new strategy should be integrated in routine care in southern Africa to increase access to life-saving HIV therapy."
Links
Project "Lesotho - Towards 90-90-90"