ANTICOV: Largest Clinical Trial in Africa to Test New Drug Combination
27.04.2021
The need for effective COVID-19 treatments remains particularly acute, especially in sub-Saharan Africa where access to vaccines is still extremely limited. The ANTICOV clinical trial, which is consortia led by DNDi with partners including Swiss TPH, has started the recruitment of participants to test a new drug combination, nitazoxanide and ciclesonide, to treat people with mild-to-moderate COVID-19 before their cases become severe.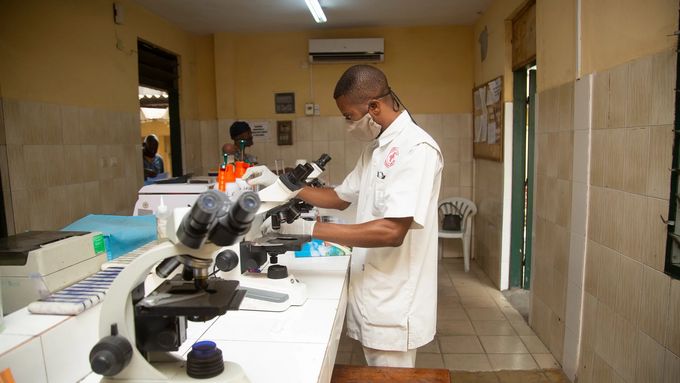 ANTICOV aims to respond to the urgent need to identify treatments that can be used to treat mild and moderate cases of COVID-19 early and prevent spikes in hospitalisation that could overwhelm fragile and already overburdened health systems in Africa.
The ANTICOV study is being carried out by a consortium of 26 partners which is comprised of African research institutions and international health organisations, including Swiss TPH, and coordinated by Drugs for Neglected Diseases initiative (DNDi). It is the largest trial in Africa to identify early COVID-19 treatments that can prevent progression to severe disease and potentially limit transmission.
"Swiss TPH feels privileged to be part of this important consortium and collaboration," said Elisabeth Reus, Head of Clinical Operations unit at Swiss TPH. "We remain committed to support all partners in conducting the study in accordance to Good Clinical Practice and applicable regulations and standards. By testing this new drug combination, we hope alternative evidence-based treatment options can be found and made available."
A new, promising drug combination
ANTICOV is testing a new potential treatment that combines the well-known antiparasitic nitazoxanide and the inhaled corticosteroid ciclesonide. The combination has two different mechanisms that could work at different stages of infection: one that is potentially active during the first, viral replication stage of SARS-COV-2 infection and one that decreases the likelihood of an inflammatory stage that can start a few days later. Both drugs are already commercially available and will be affordable and easy to access and administer, if shown to be effective against COVID-19.
The first participants in the new study arm have been recruited in the Democratic Republic of Congo (DRC) and the Republic of Guinea. In the coming weeks, additional trial sites will enrol participants in Burkina Faso, Cameroon, Côte d'Ivoire, Equatorial Guinea, Ethiopia, Ghana, Kenya, Mali, Mozambique, Sudan, and Uganda.
ANTICOV is an 'adaptive platform' trial, a flexible and innovative trial design that allows for treatments to be added or removed as new evidence emerges. The trial started in September 2020 with the HIV antiretroviral combination lopinavir/ritonavir and the malaria drug hydroxychloroquine. These two initial arms were suspended in December 2020 after WHO updated its treatment guidelines to recommend against the use of these drugs to treat COVID-19 patients, including patients with mild-to-moderate COVID-19.
About the consortium
Major funding for the ANTICOV consortium is provided by the German Federal Ministry of Education and Research (BMBF) through KfW and by the global health initiative Unitaid as part of ACT-A. Early support to launch the initiative was provided by the European & Developing Countries Clinical Trials Partnership (EDCTP), a public-public partnership supported by the European Union between countries in Europe and sub-Saharan Africa, the Republic and Canton of Geneva International Solidarity Service, Switzerland, and the Starr International Foundation, Switzerland.
Subscribe to our newsletter and get all the latest research news, project updates, course and event listings from Swiss TPH.