Mirko Winkler appointed Professor of Urban Public Health
25.04.2023
The University Council has appointed Mirko Winkler as the new Professor of Urban Public Health at the Faculty of Medicine of the University of Basel. The professorship is hosted at the Swiss Tropical and Public Health Institute (Swiss TPH) and will focus on the promotion of sustainable urban communities and their health benefits.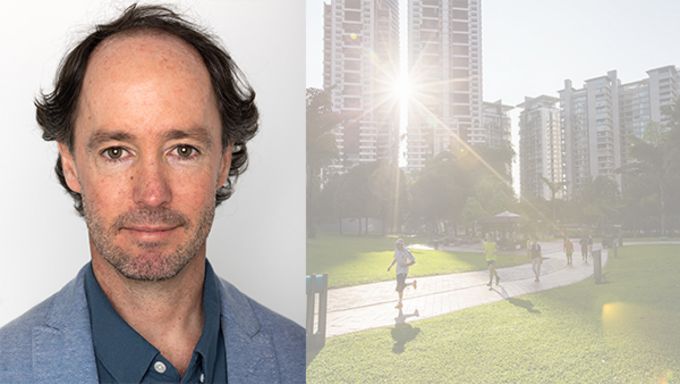 Mirko Winkler will take up the professorship on 1 May 2023 and head the new Urban Public Health unit in the Department of Epidemiology and Public Health (EPH) at Swiss TPH. "The appointment as Professor of Urban Public Health is a great pleasure and honour for me," said Winkler. "It is very important to us to further develop our solution-oriented research and teaching to make a direct contribution to the promotion of sustainable development in urban contexts in both Switzerland and internationally."
The overall aim of the professorship is to investigate the health benefits of promoting sustainable urban communities. To achieve this, both inter- and transdisciplinary research approaches are essential, alongside collaborations with, for example, urban planning and architecture.
"With this professorship, led by our experienced colleague Mirko Winkler, we can establish a centre of excellence in Urban Public Health with national and global impact," said Nicole Probst-Hensch, head of EPH who pioneered this new professorship. "We can use this novel and promising public health pillar at our institute to promote the health and well-being of people of all ages."
"A deeper understanding of health in urban areas is more important than ever in times of climate change and globalisation," said Jürg Utzinger, Director of the Swiss TPH. "This new professorship is therefore of strategic importance and will develop solution-oriented approaches and validate them in different urban areas. In this way, the professorship will make an important contribution to a healthier world.
Winkler has been a project manager at Swiss TPH since 2015, and has led the Health Impact Assessment research group since 2018. Holding a professional degree as civil engineering draftsman, he studied environmental sciences at ETH Zurich, where he graduated with a Master of Science in 2008. He completed his PhD in Epidemiology at the Swiss TPH/University of Basel and obtained his habilitation in 2019. Winkler also completed a Diploma in Tropical Medicine and Hygiene at the Gorgas Memorial Institute in Lima, Peru, and was a visiting scholar at the Fundação Oswaldo Cruz in Rio de Janeiro, Brazil.
In his research and teaching activities, Winkler focuses on the interactions between environmental change, social change, sustainable development and public health. Winkler has conducted research in many countries in Africa, South America and Asia on how the development of large infrastructure projects, such as mining and renewable energy, affects the health of the communities in which they take place. He has also investigated the health risks and opportunities of wastewater reuse in urban agriculture. Winkler's approaches are part of the growing field of sustainability science, which seeks to provide data and evidence-based support for projects and policies, and thus contribute to positive social transformation.
Contact
Associate Professor, PhD, DTM&H
Subscribe to our newsletter and get all the latest research news, project updates, course and event listings from Swiss TPH.