New Midwife Care Model Improves Well-Being of Vulnerable Families
27.04.2023
A new home-based midwife care model has shown promise in improving the well-being of women in vulnerable family situations and preventing early chronic childhood stress according to a new study published recently in BMC Health Services Research. The new model of care resulted from a partnership between the Swiss Tropical and Public Health Institute (Swiss TPH) and Familystart in Basel, Switzerland. Such a model of care could be applied to all Swiss cantons.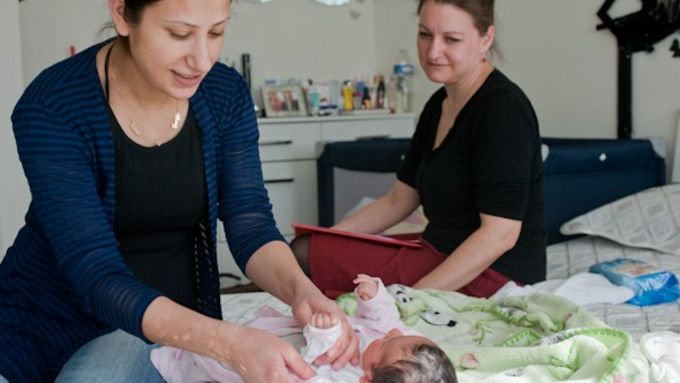 Home-based midwife care is covered by basic health insurance in Switzerland for all mothers with newborns, but must be organised by the mothers themselves. To ensure that everyone has access to these services, Familystart, a midwifery network which guarantees postpartum care for all new mothers and babies discharged from hospitals in Basel, Switzerland, supports new mothers who may lack the resources or capacity to organise postpartum care on their own.
To meet the special needs of vulnerable mothers and newborns, Familystart launched a new model of care called SORGSAM (Support at the Start of Life) that focuses on those in disadvantaged family situations. This programme of early intervention provides additional support to midwives to assess risks and establish appropriate help for families facing hardships such as lack of support, poverty, mental illness, partnership conflict or asylum status.
The SORGSAM project is the first and only early intervention programme in Switzerland that acknowledges the potential of midwives as a professional group, recognising their role in reaching vulnerable and marginalised families.
Improved well-being for mothers
Within the frame of SORGSAM, researchers from the Swiss Tropical and Public Health Institute (Swiss TPH) found a high acceptance of the new home-based midwife care model, demonstrating its ability to improve the well-being of women in vulnerable family situations and prevent early chronic childhood stress. Results showed an increase in mothers' skills in three areas: childcare, organization of family life, and searching for and accepting external help. The study was published recently in BMC Health Services Research.
"Midwives play an important role in ensuring equal opportunities at the beginning of life, which is why we are grateful to have pioneered this new midwife care model," said Elisabeth Kurth, co-author of the study and associated scientist at Swiss TPH. "This innovative approach to early postpartum care has the potential to improve the development of disadvantaged infants and mothers, and would be a beneficial model that could be applied to all Swiss cantons."
Importance of midwives as a professional group
The study found that the presence and high availability of midwives was crucial for mitigating stress levels in mothers as well as promoting positive parenting and self-confidence, including increased access to community-based support. The women described the care they received as being comprehensive, personal and reliable, all while easing the burden of social isolation and helping them to better deal with complex family situations.
The study included interviews with seven women who received home-based support in Basel. The participants had diverse backgrounds and experiences and included single mothers, those with a migration history, varying levels of education, as well as adversities such as unemployment or domestic violence. "While conducting the interviews with the participating women, I was impressed by the gratitude they felt towards the midwife who provided critical support in very distressing situations," said Bettina Schwind, Swiss TPH researcher and first author of the study. "The new mothers felt empowered and more resilient. I am therefore convinced that midwives' earliest support can make a significant change in the life of women and newborns."
Familystart
Familystart is a network of self-employed midwives. Familystart partners with maternity hospitals and outpatient care providers to offer all families a seamless transition of care from the hospital to the home. In the sensitive time after the birth of a baby, midwives monitor the mother's and the newborn's health, assist parents with advice and practical care, link them to community-based services and thereby promote healthy infant and family development.
The SORGSAM model of care offers improved assistance to psychosocially and economically disadvantaged families through access to first-line telephone support for midwives, a hardship fund that provides financial compensation for services not covered by basic health insurance, and financial emergency support. The SORGSAM model is offered in collaboration with the Swiss Federation of Midwives Basel, and is co-funded by the Health Department Basel-Stadt.
About the study
Schwind, B., Zemp, E., Jafflin, K. et al. "But at home, with the midwife, you are a person": experiences and impact of a new early postpartum home-based midwifery care model in the view of women in vulnerable family situations. BMC Health Serv Res 23, 375 (2023). https://doi.org/10.1186/s12913-023-09352-4. The study was funded by Christoph Merian Stiftung.
Subscribe to our newsletter and get all the latest research news, project updates, course and event listings from Swiss TPH.