Visit of Ukrainian Delegation to Swiss TPH
05.06.2023
Today, Swiss TPH welcomed a delegation from the Ukrainian Ministry of Health and several universities as part of a study tour to Switzerland. The aim of the visit is to exchange views on practice-oriented medical education and the concept of university hospitals. The visit was organised by Swiss TPH in the frame of the Medical Education Development Project (MED). Since the 1990s, Swiss TPH has worked with Ukraine to improve the country's health system, and continues to support Ukraine in maintaining public health during the war.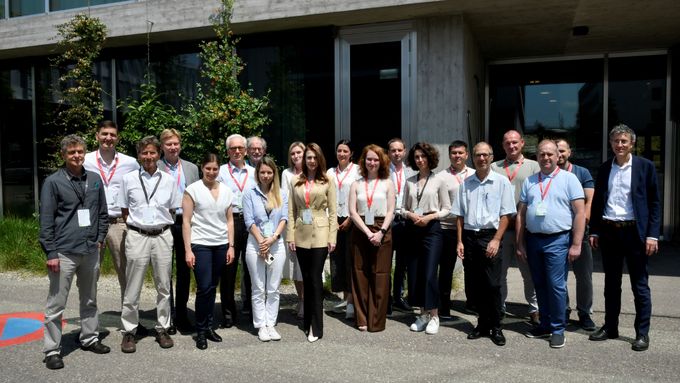 The Ukrainian delegation visiting Swiss TPH was led by Dr. Serhii Duvrov, First Deputy Minister of the Ministry of Health and included 11 participants from the Ministry of Health, the National Health Service as well as several Ukrainian universities. The participants met at Swiss TPH with Swiss public health experts, learned about the Swiss healthcare system and exchanged views around the organisation and legal basis of medical education in their respective countries.
In the coming days, the delegation will also visit the University Hospital of Basel and the Cantonal Hospital of St. Gallen. The study tour was organised by Swiss TPH in the frame of the Medical Education Development Project (MED).
About the MED project
The aim of the MED project is to support the reform of medical education and primary care in Ukraine. A particular focus is placed on the primary healthcare workforce, including family doctors and advanced practice nurses. Ultimately, the project aims to improve the quality of healthcare.
The MED project has been implemented since 2018 by Swiss TPH and is funded by the Swiss Agency for Development and Cooperation (SDC). The war has severely impacted the Ukrainian health services and overall reform efforts. Nevertheless, the MED project has largely continued to operate.
25 years of health system support in the Ukraine
The Ukrainian healthcare system has been in transition since the country's independence in 1991. In the 1990s, maternal and child mortality in Ukraine was higher than other countries in Eastern Europe. Health workers lacked up-to-date knowledge about pregnancy complications and newborn care. Hospitals also lacked the necessary medical equipment and medicines.
From 1997 to 2015, Swiss TPH supported the country to improve maternal and child health through SDC-funded projects. For example, new guidelines for clinical practice were developed, new management tools were introduced, and hospitals were equipped with modern equipment, including ventilators for newborns. All of these measures led to an improvement in medical care and a reduction in maternal and neonatal mortality.
Swiss TPH is still active in Ukraine today, working with local partners to maintain public health under wartime conditions and to educate and train healthcare professionals.
Subscribe to our newsletter and get all the latest research news, project updates, course and event listings from Swiss TPH.