Topping out Ceremony of "Belo Horizonte" Took Place One Year after the Groundbreaking Ceremony
22.06.2020
The construction of the new Swiss TPH headquarters "Belo Horizonte" in Allschwil is underway and progressing according to plan. As of mid-May 2020, the roof of the building was finished with concrete. The traditional topping out ceremony for the construction workers took place on Friday, 19 June 2020, in compliance with COVID-19 protection measures. The move of Swiss TPH to Allschwil is planned for the end of 2021.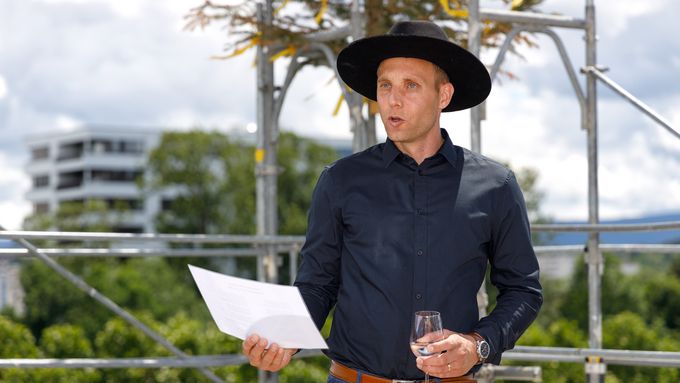 The construction work of "Belo Horizonte" in the BaseLink site in Allschwil is progressing according to schedule. At present, the facade of the building, the windows and the ceilings are being installed. At the same time, work on the technical installations, plumbing and electrical systems is underway and the laboratories are being built. 13,386 m2 of concrete (approximately 31,000 tons) and nearly 2,200 tons of steel were used in the structural work of the building.
Due to the COVID-19 pandemic, the construction site was regularly inspected and has been found to be "FOPH-compliant". This means that the regulations of the Federal Office of Public Health (FOPH) were adhered to and that construction could continue without interruption. "The past four months have been a great challenge for the planners and construction workers. It is thanks to the excellent cooperation of all partners and the extra work that they have put in, such as working on Saturdays, that we are still on schedule despite the pandemic," said Stefan Mörgeli, Project Manager of "Belo Horizonte" at Swiss TPH.
Topping out ceremony
The traditional topping out ceremony ("Richtfest") of the Swiss TPH headquarters took place one year after the groundbreaking ceremony, on 19 June 2020. Jürg Utzinger, Director of Swiss TPH, welcomed the guests and thanked all participants. "A huge thanks, Merci beaucoup, Grazie mille, Obrigado, Dziękuję bardzo, Ďakujem, Hvala, Teşekkür ederim for the great work to the over 150 construction workers from 11 nations, in particular to the workers of Marti AG," said Utzinger. "We are looking forward to this phenomenal new building and our new home in Allschwil!"
Thanks to the appropriate protection measures, the topping out ceremony could be held in compliance with official COVID-19 requirements of the FOPH. Among the participants were the construction workers from various companies, members of the steering committee, the board of governors, the management and the building committee of Swiss TPH, representatives of the R. Geigy Foundation, as well as general and specialist planners and future neighbours.
United under one roof
The employees and students of Swiss TPH, who are currently spread out over seven buildings on Socinstrasse in Basel, will now be able to conduct work, research and study under one roof in the BaseLink site in Allschwil. The multifunctional "Belo Horizonte" building (floor area: 19,826 m2 / usable floor space: 13,376 m2) designed by the Basel architects 'Kunz und Mösch' offers 725 work spaces, 150 laboratory places and is supplemented by auditoriums, course rooms and a cafeteria.