Bachelor of Science in Biology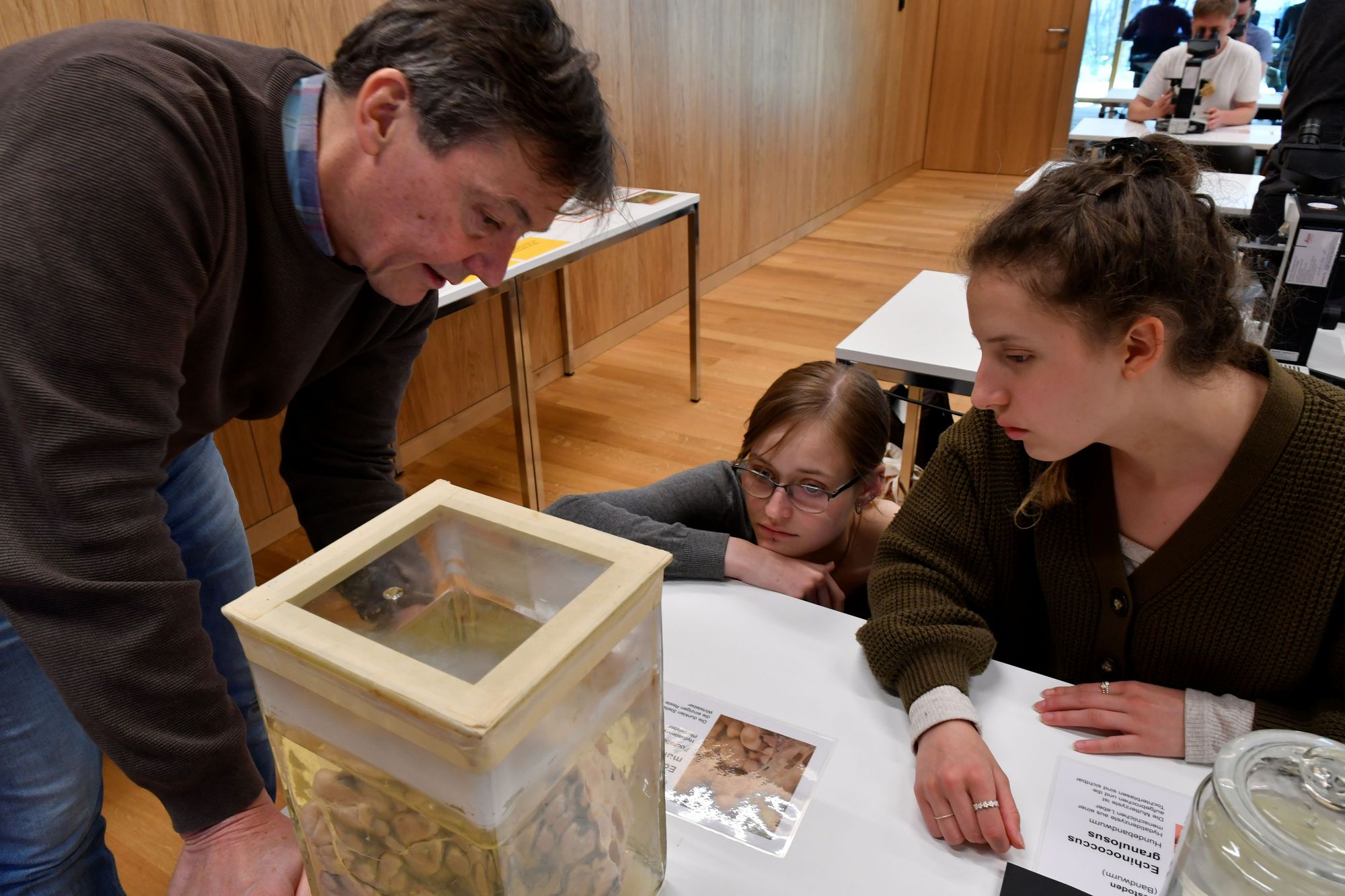 In association with the University of Basel, Swiss TPH is offering courses for the Bachelor's degree in Biology. These courses focus on parasitology and parasitism as well as on biology and epidemiology of infectious diseases.
As German is the official teaching language of the University of Basel, undergraduate students must be proficient in this language.
Lecture "Concepts in Infection Biology"
"Concepts in Infection Biology" takes place in the spring semester of the first or second year of the Bachelor in Biology Curriculum of the University of Basel. The lectures are taught in German.
Countless microbes enter our bodies every day. They are all eliminated by defense mechanisms - except for professional parasites, eukaryotes as well as prokaryotes, which know how to bypass our defenses and trick the immune system. How do they do it? And what can we learn from them? We will first develop the basic concepts of infection biology theoretically and then illustrate each with an example from research at Swiss TPH.
Central topics on the part of parasites are transmission routes and vectors, zoonoses, immune evasion by antigenic variance or molecular mimicry. Furthermore, we deal with experimental approaches in research and development of drugs and vaccines.
Course "Parasitology and Parasitism"
Parasitology and Parasitism can be chosen in the first or second year of the Bachelor in Biology Curriculum of the University of Basel. The lectures are taught in German.
This course provides an introduction to parasitology and parasitism in the animal and plant kingdoms - as a special form of association between organisms of different species. The concepts of host specificity, adaptation and survival strategies of parasites are illustrated at the molecular and cellular, as well as at the individual and population level. Different life cycles are described qualitatively and quantitatively with the aim of highlighting the determining factors of transmission dynamics. Furthermore, the role of parasitic diseases for society is presented and discussed.
Block Course "Infection Biology and Epidemiology"
This block course is part of the Bachelor of Biology curriculum at the University of Basel. It takes place in the fall semester of the 3rd year of study, lasts 6 weeks and is taught in English.
The course focuses on the phenomenon of infection from a biological and epidemiological perspective. In addition, the importance of infections for individuals and society will be demonstrated. Infection biology studies life processes of parasites and consequences of parasite-host interactions. Epidemiology examines the frequencies and spread of infections and diseases in a host population and the factors that determine these frequencies and spread.
Methods and working approaches from molecular and cell biology, microbiology and parasitology, immunology, and epidemiology and social sciences are used for analysis in this course.
Basic knowledge of the elective course "Parasitology and Parasitism" is assumed. A corresponding learning software with introductions to parasitology and epidemiology has been part of this course since the summer semester 2001.