TB Practecal
Pragmatic Clinical Trial for a More Effective, Concise and Less Toxic MDR-TB Treatment Regimen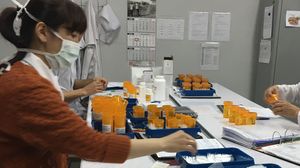 Tuberculosis (TB) is a globally spread disease which is caused by the bacteria Mycobacterium tuberculosis. The current standard of care consists of a combination therapy of different antibiotics. However, multidrug-resistant (MDR) M. tuberculosis strains emerge strongly, complicating efforts to control the global TB epidemic.
Providing Evidence for Shorter Treatment Regimens
Over the past few years, the use of new drugs such as Delamanid and Bedaquiline have dramatically changed MDR-TB treatment possibilities. Shorter MDR-TB treatment regimens using these drugs in combination with existing drugs were integrated in the WHO Guidelines for treatment; however, the evidence base for some combinations remains low. Therefore, a need for high quality evidence to demonstrate safety and efficacy of particular combinations remains.
TB-Practecal is a phase II/III randomized control trial that evaluates the safety and efficacy of combinations of new (Bedaquiline, Pretomanid) and existing TB drugs (Linezolid, Moxifloxacin, Clofazimine) in a 6-month treatment regimen. The aim is find a regimen with minimal side effects that will improve outcomes in patients and provide quality evidence for shorter MDR-TB treatment regimens.
Promising Progress
The trial began in January 2017 with the study site Nukus (Karakalpakstan), Uzbekistan, and later included sites in Tashkent, Uzbekistan, Belarus and South Africa. Stage 1 (Phase II) of the study was completed in December 2019, showing that all three regimens were safe and effective. Stage 2 (Phase III) of the trial stopped enrolment early after the preliminary data showed the that new regimen B-Pa-Lzd-Mfx was significantly out-performing the current locally-approved standard of care regimens. Interim data will be submitted to the WHO by the end of the year, so that it can be taken into consideration for the next update of the WHO treatment guidelines.
The trial is run and sponsored by the international medical humanitarian organisation Médecins Sans Frontières/Doctors Without Borders (MSF) and is supported by the London School of Hygiene & Tropical Medicine, as well as other leaders in medical research. The Clinical Operations Unit from Swiss TPH is responsible for the monitoring of the trial.