Pragmatic Clinical Trial for a More Effective, Concise and Less Toxic MDR-TB Treatment Regimen (TB-Practecal)
Tuberculosis (TB) is a disease caused by the bacteria Mycobacterium tuberculosis, and is globally one of the major causes of death by an infectious agent. In 2021, the World Health Organization (WHO) reported treatment success rates for patients with drug-sensitive TB (DS-TB) to be around 85%. However, for patients with multidrug-resistant tuberculosis (MDR-TB defined as resistance to the drugs rifampicin and isoniazid), treatment success rates are only in the range of 50 – 75%. In the past, treatment for MDR-TB contained multiple drugs, with many side effects and a treatment duration of about 20 months.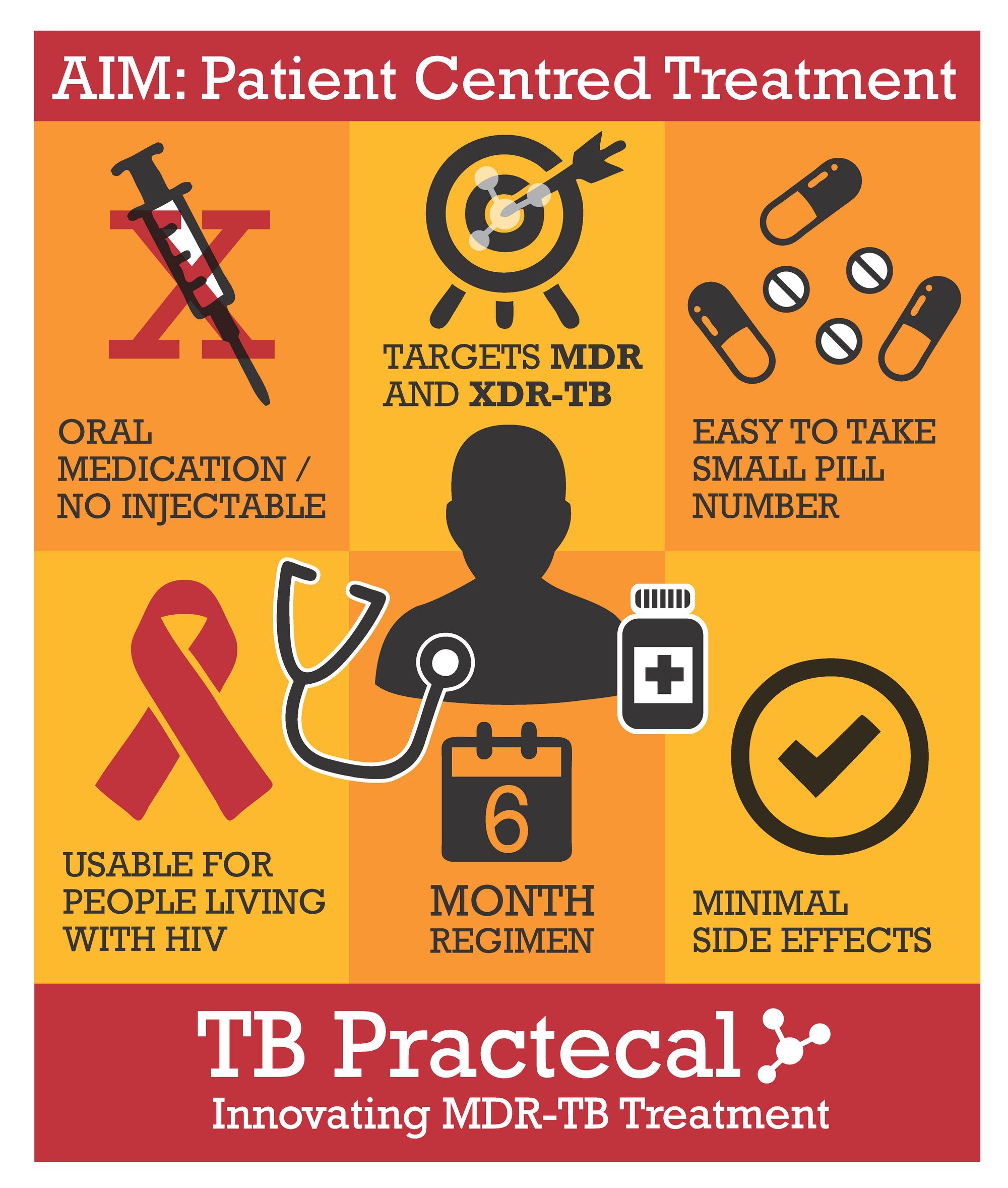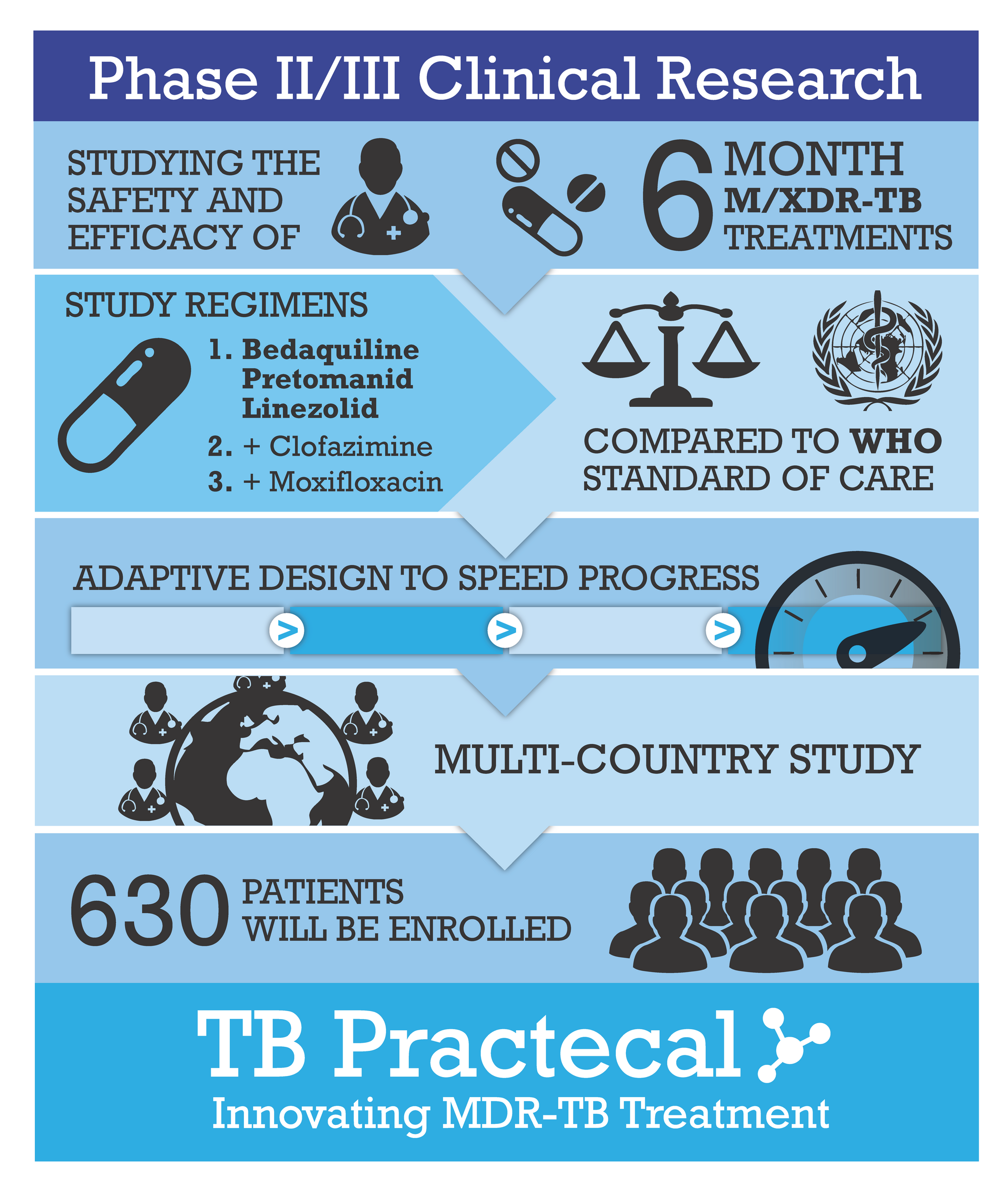 Providing Evidence for Shorter Treatment Regimens
Shorter treatment regimens for MDR-TB such as the 9-month treatment regimen have continued to improve treatment options for patients; however, the evidence base for the recommendations remains low. Therefore, a need for high quality evidence to demonstrate safety and efficacy of particular treatment combinations remains.
TB-Practecal is an open-label phase II/III randomized control trial that evaluates the safety and efficacy of of 6-month treatment regimens. The three treatment arms include:
1) Bedaquiline, Pretomanid and Linezolid (BPaL);
2) BPaL + Moxifloxacin (BPaLM);
3) BPaL + Clofazimine (BPaLC).
The treatment arms are compared to the locally approved standard of care (SOC) treatment. Patients aged 15 years or above (where approved by the local country authorities), with confirmed rifampicin-resistant TB, regardless of Human Immunodeficiency Virus (HIV) status were included in the trial. The aim is find a regimen with minimal side effects that will improve outcomes in patients and provide quality evidence for all-oral, shorter MDR-TB treatment regimens.
The trial is sponsored by the international medical humanitarian organisation Médecins Sans Frontières/Doctors Without Borders (MSF) and is supported by the London School of Hygiene & Tropical Medicine, as well as other leaders in medical research. The Clinical Operations Unit of Swiss TPH is responsible for the clinical monitoring of the trial at the study sites in Uzbekistan, Belarus and South Africa, as well as providing operational support.
Validation to Application
The trial began in January 2017 with the two study sites in Uzbekistan, one site in Belarus and 3 sites in South Africa. Stage 1 (Phase II) of the study was completed in December 2019, showing that all three regimens were safe and effective. Initial results from Stage 2 (Phase III) of the trial, published in the New England Journal of Medicine, show that the 6-month regimen BPaLM is safer and more effective than the current SOC in treating MDR-TB. On December 15th, 2022, the updated WHO consolidated guidelines on TB- Module 4: treatment, drug-resistant TB (DR-TB) recommended the 6-month regimen BPaLM instead of the longer regimens for the treatment of patients with MDR-TB.