CARAMAL - Community Access to Rectal Artesunate for Malaria
Many malaria deaths occur in places where people have poor access to preventive and curative health services. Prompt access to quality care is critical in the case of severe childhood diseases, among which severe malaria is particularly frequent in endemic areas of sub-Saharan Africa. Where parenteral treatment of severe malaria is not available, for example at the level of community health workers, the World Health Organization (WHO) recommends administration of a single rectal dose of artesunate (RAS) to children less than 6 years, followed by immediate referral to an appropriate facility where the full package of care for severe malaria can be provided.
Since 2018, two RAS products have been WHO-prequalified and many African countries have included the use of pre-referral RAS in their malaria treatment guidelines – though these guidelines do not always align well with the WHO recommendation.
In light of the impending scale-up of RAS pre-referral treatment across malaria-endemic countries particularly in Africa, it was critical to investigate the safe and effective implementation of RAS as part of a continuum of care for severe malaria patients.
The CARAMAL Project
The Community Access to Rectal Artesunate for Malaria (CARAMAL) project was conducted between 2018 and 2020 as a large-scale observational implementation study in the Democratic Republic of the Congo (DRC), Nigeria, and Uganda. The aim of the project was to address two fundamental issues underlying the scale-up of pre-referral RAS: (1) investigate whether the impact of RAS on case fatality observed under controlled trial conditions could be replicated in routine real-world settings; and (2) contribute to the development of operational guidance for the large-scale implementation of RAS with maximum impact.
The core of the CARAMAL study was a Patient Surveillance System (PSS) that enrolled and cases of severe febrile illness from first contact at primary health care level and tracked the patients at referral health facilities and 28 days after enrolment at their home. Cross-sectional community and health provider surveys complemented the PSS. The study was implemented in areas in which community health workers implementing integrated community case management (iCCM) provided basic health care services at community-level.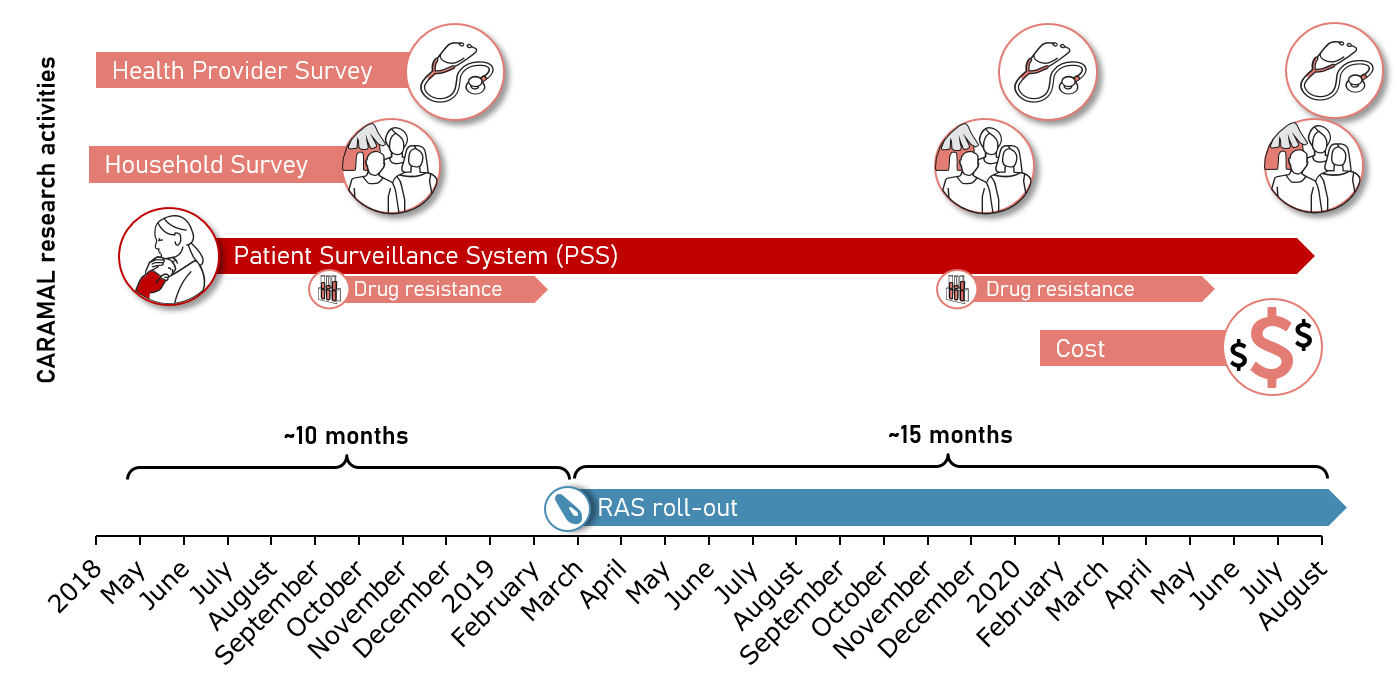 Project Partners
The CARAMAL project was funded by Unitaid and coordinated by the Clinton Health Access Initiative (CHAI). UNICEF was responsible for ensuring the implementation of quality-assured RAS into routine delivery systems. Swiss TPH in partnership with the local research organizations Akena Associates in Nigeria, Kinshasa School of Public Health in DRC and Makerere University School of Public Health in Uganda carried out the research component of the project. Medicines for Malaria Venture and the WHO had an enabling role in the project and the Institut Pasteur in Cambodia collaborated on the topic of drug resistance.
Findings to Date
Key findings from the project were presented to the WHO's Malaria Policy Advisory Group (MPAG) in October 2021 (meeting report). The protective effect of pre-referral RAS on child case fatality found in the clinical trial published in 2009 could not be replicated in the CARAMAL project settings. Underlying reasons appeared to be shortfalls in referral systems and in post-referral treatment at higher-level health facilities. The WHO subsequently issued an Information Note in early 2022 cautioning countries that pre-referral RAS should be scaled up only if a functioning continuum of care can be maintained.
Further analyses are ongoing and findings are in the process of being published in the scientific literature.

Selection of Project-Related Outputs to Date
Hetzel MW, Awor P, Tshefu A, Omoluabi E, Burri C, Signorell A, et al: Pre-referral rectal artesunate: no cure for unhealthy systems. The Lancet Infectious Diseases 2022. https://doi.org/10.1016/S1473-3099(22)00762-9
Lengeler C, Burri C, Awor P, Athieno P, Kimera J, Tumukunde G, et al: Community access to rectal artesunate for malaria (CARAMAL): A large-scale observational implementation study in the Democratic Republic of the Congo, Nigeria and Uganda. PLOS Glob Public Health 2022, 2(9): e0000464. https://doi.org/10.1371/journal.pgph.0000464
Hetzel MW, Okitawutshu J, Tshefu A, Omoluabi E, Awor P, Signorell A, et al: Effectiveness of rectal artesunate as pre-referral treatment for severe malaria in children under 5 years of age: a multi-country observational study. BMC Med 2022, 20(1):343. https://doi.org/10.1186/s12916-022-02541-8
Brunner NC, Omoluabi E, Awor P, Okitawutshu J, Tshefu Kitoto A, Signorell A, et al: Prereferral rectal artesunate and referral completion among children with suspected severe malaria in the Democratic Republic of the Congo, Nigeria and Uganda. BMJ Glob Health 2022, 7: e008346. https://doi.org/10.1136/bmjgh-2021-008346
Signorell A, Awor P, Okitawutshu J, Tshefu A, Omoluabi E, Hetzel MW, et al: Health worker compliance with severe malaria treatment guidelines in the context of implementing pre-referral rectal artesunate: an operational study in three high burden countries. medRxiv 2021, 2021.11.26.21266917 (pre-print). https://doi.org/10.1101/2021.11.26.21266917
Lambiris MJ, Ndongala Venga G, Ssempala R, Balogun V, Galactionova K, Musiitwa M, et al. Health system readiness and the implementation of rectal artesunate for severe malaria in sub-Saharan Africa: an analysis of real-world costs and constraints. The Lancet Global Health 2022. https://doi.org/10.1016/S2214-109X(22)00507-1
Awor P, Kimera J, Athieno P, Tumukunde G, Okitawutshu J, Tshefu A, et al: Acceptability of pre-referral rectal artesunate for severe malaria in children under 5 years by health workers and caregivers in the Democratic Republic of the Congo, Nigeria and Uganda. Malar J 2022, 21(1):322. https://doi.org/10.1186/s12936-022-04348-7
Awor P, Kimera J, Brunner NC, Athieno P, Tumukunde G, Angiro I, et al: Care seeking and treatment of febrile children with and without danger signs of severe disease in Northern Uganda: results from three household surveys (2018-2020). Am J Trop Med Hyg 2022, 107(4):934-938. https://doi.org/10.4269/ajtmh.21-1132
Okitawutshu J, Signorell A, Kalenga JC, Mukomena E, Delvento G, Burri C, et al: Key factors predicting suspected severe malaria case management and health outcomes: an operational study in the Democratic Republic of the Congo. Malar J 2022;21(1):274. https://doi.org/10.1186/s12936-022-04296-2