openIMIS Claims AI - Claims categorization using Artificial Intelligence
Project Abstract
The goal of this project is to develop an automatic claims categorization module for openIMIS based on state-of-the-art Artificial Intelligence (AI) algorithms, standards, and methodologies which will drastically reduce the manpower, resources and time required to review a reimbursement claim.
This Artificial Intelligence (AI) based claims categorization prototype application for openIMIS platform (www.openimi.org) will automatically update the claim's status to accepted, rejected or to be further analyzed by a medical expert. The process will be divided into three phases:
Research phase: Swiss TPH will work closely with GIZ Nepal to undertake the research and development of the AI algorithm for claims categorization based on anonymized openIMIS claim data and associated entities (insuree, health facility, diagnostics, medical items, and services). It will be crucial to have access to a database with already categorized digitized claims (by a Medical Officer) and to identify the key input variables to be processed by the AI algorithms. The overall objective of the AI component is to achieve claims categorization performance similar to the human expert results. Several classification methods (supervised and unsupervised) will be considered to fit the specific AI model to be elaborated. To make the solution available for different contexts and insurance entities, HL7 FHIR will be used for the input and output data format of the AI model.

Development phase: SolDevelo (a Polish IT company) will develop an openIMIS module that will integrate the AI algorithm and will create the requisite links and transitions for the module activation. Moreover, an extension of the Claim module will be developed to allow the Medical Officer to check the quality of the AI categorization results and adjust, if necessary, thus improving more the AI categorization model.

Testing phase: Swiss TPH and GIZ Nepal will organize a workshop in Nepal and run the AI module in real case scenarios to validate the research and development phases.
Contact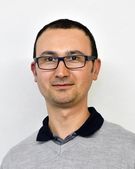 Dragos Dobre
Project Officer / Manager, ICT System Engineer, Wissenschaftliche Mitarbeitende/Post-Doc (SHIS 530)
Collaborating Institutions