EPOCHAL: Effects of Pollen on Cardiorespiratory Health and Allergies
Goal of the study
The EPOCHAL study aims to find out how pollen from trees, grasses and herbs affect our health. If you have a pollen allergy, you may recognize typical symptoms, such as sneezing, a runny nose and itchy eyes. Besides these well-known symptoms, research has shown that pollen allergy may affect heart, lung, and brain health. Pollen allergy symptoms may also cause poor sleep, difficulty with concentration, and reduced productivity. So far, we know very little about these health effects and how they might be dependent on your personal sensitivity, the species and amount of pollen. Furthermore it is not clear whether pollen affects the health of non-allergic people.
Why is this important?
With almost 20% of the population affected, pollen allergy is the most common chronic disease in Switzerland, and this number has increased dramatically in recent decades. Meanwhile, climate change is increasing our exposure to pollen: some plants are releasing pollen earlier, over for a longer period of time, and many plants are releasing more pollen. It is important to study the different health impacts of pollen which have so far been unrecognized, and enable better individual recommendations to reduce pollen allergy symptoms in the future.
We are pleased to announce that we have reached our recruitment goal. We thank all of our volunteer participants for their time, support and contributions. We look forward to sharing the study results in the future.

Related Publications
Valipour Shokouhi B, de Hoogh K, Gehrig R, Eeftens M. Estimation of historical daily airborne pollen concentrations across Switzerland using a spatio temporal random forest model. Sci Total Environ. 2024;906:167286. DOI: 10.1016/j.scitotenv.2023.167286
Gisler A et al. Pollen exposure is associated with risk of respiratory symptoms during the first year of life. Allergy. 2022;77(12):3606-3616. DOI: 10.1111/all.15284
Bürgler A, Glick S, Hartmann K, Eeftens M. Rationale and design of a panel study investigating six health effects of airborne pollen: the EPOCHAL study. Front Public Health. 2021;9:689248. DOI: 10.3389/fpubh.2021.689248
Glick S, Gehrig R, Eeftens M. Multi-decade changes in pollen season onset, duration, and intensity: a concern for public health?. Sci Total Environ. 2021;781:146382. DOI: 10.1016/j.scitotenv.2021.146382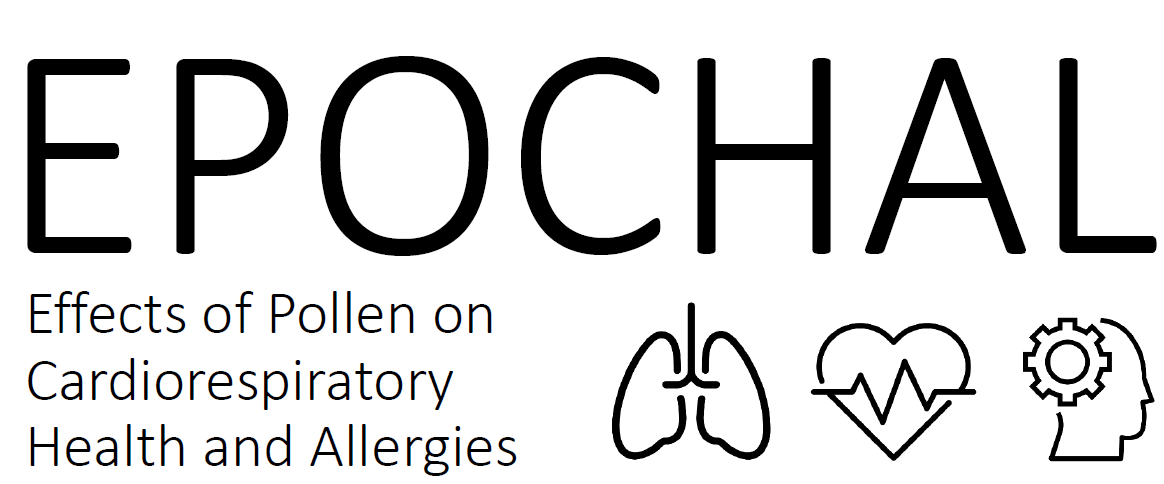 SRF PULS: Aggressive Pollen – Allergien auf dem Vormarsch (20.03.2023)