EPOCHAL: Effects of Pollen on Cardiorespiratory Health and Allergies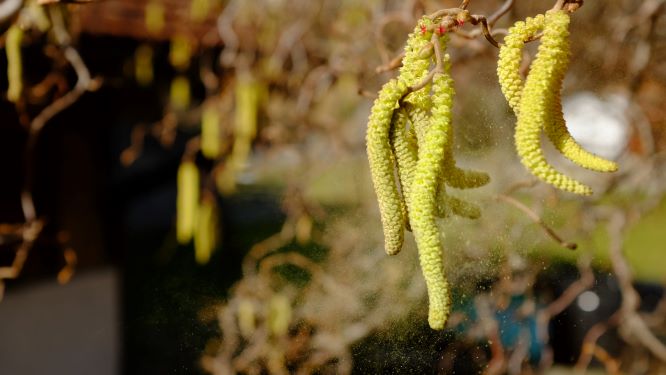 Goal of the study
The EPOCHAL study aims to find out how pollen from trees, grasses and herbs affect our health. If you have a pollen allergy, you may recognize typical symptoms, such as sneezing, a runny nose and itchy eyes. Besides these well-known symptoms, research has shown that pollen allergy may affect heart, lung, and brain health. Pollen allergy symptoms may also cause poor sleep, difficulty with concentration, and reduced productivity. So far, we know very little about these health effects and how they might be dependent on your personal sensitivity, the species and amount of pollen. Furthermore it is not clear whether pollen affects the health of non-allergic people.
Why is this important?
With almost 20% of the population affected, pollen allergy is the most common chronic disease in Switzerland, and this number has increased dramatically in recent decades. Meanwhile, climate change is increasing our exposure to pollen: some plants are releasing pollen earlier, over for a longer period of time, and many plants are releasing more pollen. It is important to study the different health impacts of pollen which have so far been unrecognized, and enable better individual recommendations to reduce pollen allergy symptoms in the future.
Who can participate?
We are looking to recruit adults (age 18 – 65) who are living in Switzerland, and maximum 40 minutes from Basel. Whether you are suffering from one or multiple severe pollen allergies, mild allergies, or have no known pollen allergies at all, we would like to hear from you!
I am interested in taking part! What can I expect?
Between January and September, the months when pollen is typically abundant in the Basel region, one of our study nurses will visit you at home weekly, in total 6 times, to ask you about your symptoms and measure your respiratory and cardiovascular health. Here, you will get insight into your personal lung function and blood pressure values. These visits will take about 60 minutes each and we will work with you to find a convenient time. We will also ask you to wear a Fitbit fitness wristband and record your symptoms for 10 days during the study period, which will take about 20 minutes per day. In doing so, you will learn more about your daily physical activity and sleep. If you have a pollen allergy, we would like to schedule these visits during the months when you normally have symptoms.
In addition, you will have a 1.5 hour appointment at the University Hospital's allergy clinic to be tested for sensitivity to more than10 common plants pollen free of charge.
What is my personal benefit?
By participating in EPOCHAL, you get unique insight into your sensitization to different pollen types, your respiratory and cardiac health as well as your activity and sleep patterns. By participating in EPOCHAL, you contribute to important, cutting-edge research. As an appreciation for your efforts, you will further receive a small CHF 40 financial compensation and we will take care of your travel expenses for your visit to the University Hospital Allergy clinic.
Have we sparked your interest?
Please fill out this non-binding contact form
https://bit.ly/3sPjmgoor contact us:
WhatsApp or phone: 079 674 02 99
Email: epochal@swisstph.ch
We are looking forward to hearing from you.
Frequently Asked Questions
For most adults, the answer is yes! If you are between the ages of 18-65 years, live within 40 minutes of central Basel by public transport, and are interested in participation, we would like to hear from you. Adults with asthma or preexisting high blood pressure are welcome to participate. Pregnant women and people with a history of immunotherapy for pollen allergy within the last 5 years (shots or tablets) will not be able to participate. Our EPOCHAL staff can discuss additional inclusion and exclusion criteria with you over phone or email.
Who do I contact if I am interested in participating?
You can contact us by filling in this non-binding contact form.
You can also send us an email at epochal@swisstph.ch or contact us via WhatsApp message or telephone at + 41 (0) 79 674 02 99. We are looking forward to hearing from you.
The EPOCHAL study will be conducted in 2021 (March – September) and 2022 (January – September). Each participant will be enrolled for approximately 6 weeks. For people who have a pollen allergy, we will ask you to participate during the months when you typically experience your allergy symptoms. For people without pollen allergy, you can participate when it is convenient for you. While we have planned for six weeks of data collection, we understand that you may need to miss one or two weeks due to holiday, work commitment, or an unexpected event. If that happens, we may ask you to extend your participation one additional week.
Where will I participate?
You will first speak with an EPOCHAL staff member over telephone – this will allow us to check your eligibility and explain in more detail the study methods. Next, we will have an in-person meeting at your home. At this time, we will discuss the study in detail and you will be asked to sign an Informed Consent form. After this important step, you will have your first lung and heart assessments and be scheduled for allergy testing at the allergology clinic. The five follow-up visits with the study nurse will all occur in your home. At no point in the study will you be required to visit Swiss TPH.
Are there any supplies which I need?
We will provide you with the medical equipment needed for study participation. This will include a 14-day loan of a Fitbit wristband and a home blood pressure monitor (you will use these devices for 10 days out of the 14-day period). We will also give you the website links for the online questionnaire and brain health games. We do require that EPOCHAL participants have a computer, laptop, or tablet and internet connection so that they can complete the online tasks and forms.
How is COVID-19 impacting EPOCHAL?
We are mindful that during the COVID-19 pandemic, you may be hesitant to participate in a pollen study. We do not expect that participation in the EPOCHAL study will increase your risk of COVID-19. Equipment will be disinfected before and after every use. Our EPOCHAL team will strictly monitor hygiene during home visits. If at any time you experience viral symptoms, we will pause the study activities until you have recovered.
How will my personal privacy be handled?
Privacy of personal data is very tightly protected through Swiss and European law. We will collect health data during the EPOCHAL study. All participant health data will be stored using a unique identification code (4 digit number), not your name or date of birth. We will closely follow all regulations to make sure that your data remains secure.
We welcome your questions about the EPOCHAL study. If you have specific questions related to participation or study methods, please contact our EPOCHAL staff via email at epochal@swisstph.ch or via call/SMS/WhatsApp at +41 (0) 79 674 02 99. We speak German and English.