Group | Vector Research and Control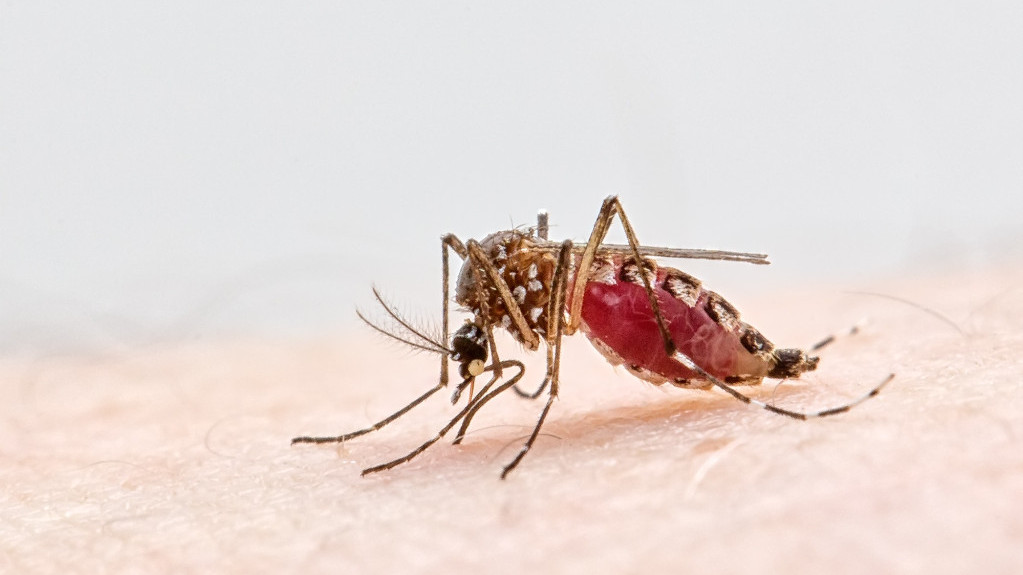 Vectors are organisms that do not cause disease themselves but spread infections by carrying pathogens from one host to another. From a medical point of view mosquitoes are particularly important vectors as they spread some of the most devastating infectious diseases such as malaria, dengue fever, West Nile fever or Zika virus infections.
Investigation of Vectors and Development of New Tools
In order to find ways to interrupt the transmission of such diseases the Vector Research and Control group focuses on the research in biting mosquitoes and studies their physiology, behaviour and ecology. We develop and evaluate new tools for the surveillance and control of mosquitoes and offer services to industry for testing public health pesticide products. The group is also actively contributing to research training and capacity building through teaching in various courses as well as through MSc and PhD projects.
Mosquito Biology Research
In order to find better ways to protect humans from infectious mosquito bites we study the physiology, behaviour and ecology of mosquitoes. Field surveys inform us about the composition of a present mosquito population and whether there is a risk of disease transmission. The field surveys also show us how effective implemented control measures are.
We also use experimental approaches both in the laboratory and in the field with the aim to better understand how mosquitoes acquire, process and respond to information from their environment.
Moreover, we study how insecticide resistance and other traits depend on environmental and genetic factors. We use a series of technologies including bioassays, molecular tools, infrared video tracking, field trapping methods and biostatistics.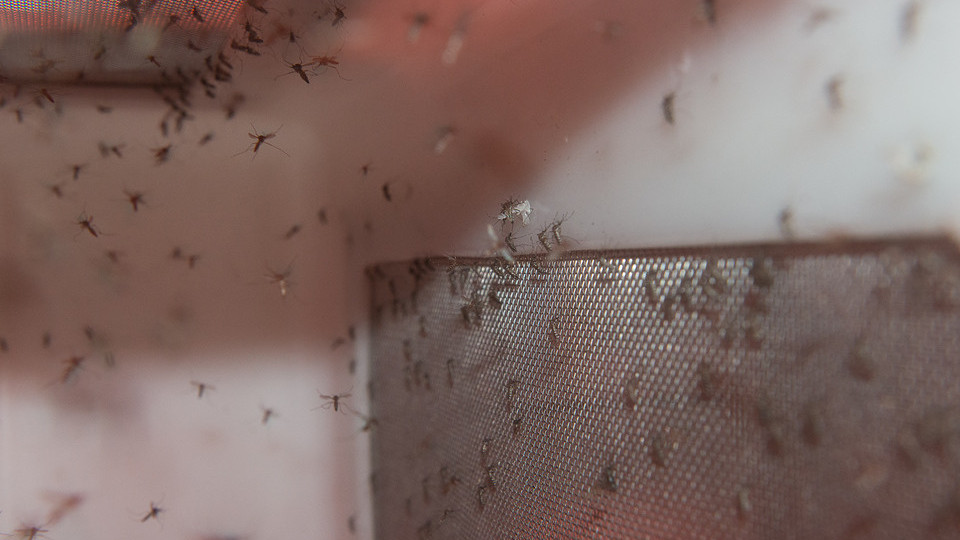 Mosquito Repellent and Insecticide Test Facility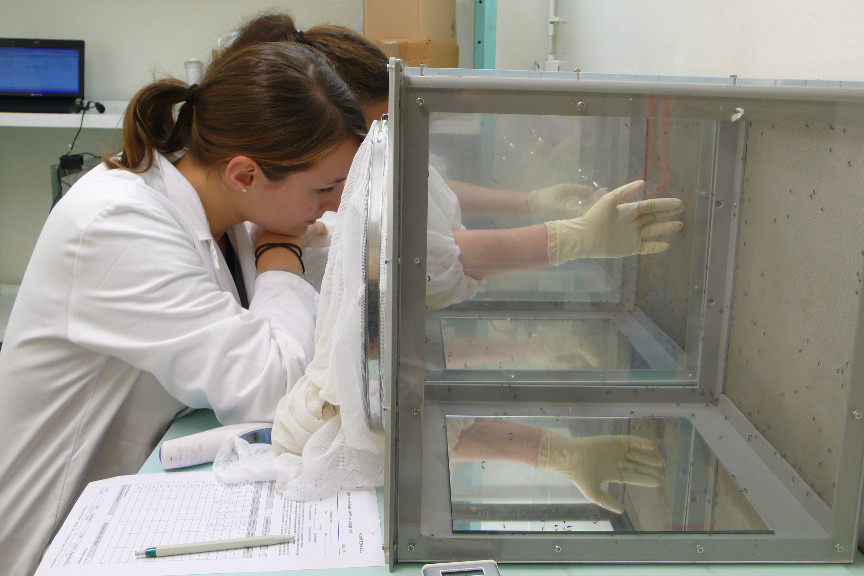 Arthropod Testing Facility
We have extensive experience in testing public health pesticide formulations and offer services to carry out studies to evaluate mosquito repellents and insecticides. Swiss TPH has specialist facilities to rear a range of mosquito colonies and to undertake bioassays according to internationally recognised standards. In collaboration with our African partner institutions we may also offer semi-field and field trials.
Label for Mosquito Repellents
The well-known, internationally registered Swiss TPH quality label guarantees high efficacy standards for topical mosquito repellents. We particularly recommend travellers to the tropics to purchase products with our label.
Surveillance of Invasive Mosquitoes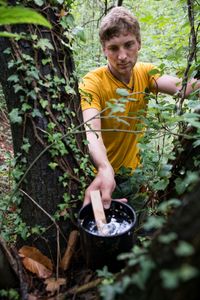 The spread of invasive mosquito species able to transmit human diseases alongside returning travellers from disease endemic countries pose an emerging public health threat to Europe. In Switzerland, there are already at least three invasive mosquito species of which the Asian tiger mosquito, Aedes albopictus is of particular concern because it is a vector competent for several viruses including Zika, chikungunya and dengue. The Vector Biology and Control Group co-ordinates the national surveillance programme and acts as the regional laboratory for reporting suspected invasive mosquitoes.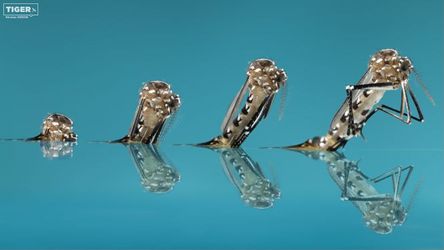 TIGER (Tri-national Initiative Group of Entomology in the Upper Rhine valley) is an EU-funded INTERREG-V project with the purpose of supporting institutions responsible for public health in relation to the Asian tiger mosquito and improving communication within the tri-border region. The focus of the project group is on supporting public institutions with competent scientific and technical information. TIGER is instrumental in ensuring that access to important data related to alien mosquitoes and risk assessment is always available. More information and details about TIGER can be found here: https://tiger-platform.eu/.
New Tools for Mosquito Control
In order to improve the surveillance and control of mosquitoes we develop and evaluate new diagnostic tools that use nucleic acid based approaches as well as matrix assisted laser desorption/ionisation mass spectrometry (MALDI-TOF MS) to identify cryptic mosquito species, insecticide resistance markers or pathogen identification. We evaluate candidate pesticides and new modes of delivery under lab and field conditions and develop new tests for this purpose.
Corbel V et al. A new WHO bottle bioassay method to assess the susceptibility of mosquito vectors to public health insecticides: results from a WHO-coordinated multi-centre study. Parasit Vectors. 2023;16:21. DOI: 10.1186/s13071-022-05554-7
N'Dri B.P et al. Species composition and insecticide resistance in malaria vectors in Ellibou, southern Côte d'Ivoire and first finding of Anopheles arabiensis in Côte d'Ivoire. Malar J. 2023;22:93. DOI: 0.1186/s12936-023-04456-y
Green N et al. An evidence synthesis approach for combining different data sources illustrated using entomological efficacy of insecticides for indoor residual spraying. PLoS One. 2022;17(3):e0263446. DOI: 10.1371/journal.pone.0263446
Miranda M.A et al. AIMSurv: first pan-European harmonized surveillance of Aedes invasive mosquito species of relevance for human vector-borne diseases. GigaByte. 2022;2022:gigabyte57. DOI: 10.46471/gigabyte.57
Pichler V et al. Geographic distribution of the V1016G knockdown resistance mutation in Aedes albopictus: a warning bell for Europe. Parasit Vectors. 2022;15:280. DOI: 10.1186/s13071-022-05407-3