From Farms to Families: A New Swiss Partnership Aims to Improve Urban Diets
14.10.2021
In partnership, the Swiss Tropical and Public Health Institute (Swiss TPH) with Sight and Life, ETH Zürich and the Syngenta Foundation for Sustainable Agriculture have launched the Nutrition in City Ecosystems (NICE) project ahead of World Food Day on October 16, 2021. Working across the agricultural, health and education sectors, the NICE project aims to improve urban diets in low- and middle-income countries. NICE promotes women and youth leadership, and places a strong emphasis on public-private engagement and income generation.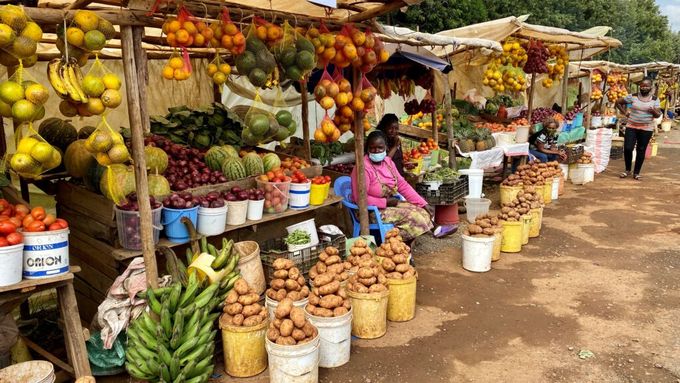 The world faces a major malnutrition crisis, with rapid urbanization shifting the impact from rural to city populations. To improve urban diets in Bangladesh, Kenya and Rwanda, a consortium of Swiss partners has launched the Nutrition in City Ecosystems (NICE) project. NICE is led by the Swiss Tropical and Public Health Institute (Swiss TPH) and supported by the Swiss Agency for Development and Cooperation (SDC).
"Over two billion people lack access to safe, nutritious and sufficient food. Even before the COVID-19 pandemic, the world was not on track to defeat malnutrition," said Helen Prytherch, NICE Project Coordinator at Swiss TPH. "The global community recognises the urgent need to improve food systems. The aim of NICE is to ensure long-term access to nutritious, local, agro-ecologically produced foods, as well as to reduce waste and the strain on natural resources."
Secondary cities, not just national capitals, play a key role in the transformation of food systems. As well as bringing different sectors together, city authorities can champion the engagement of women and youth in the production, selling, preparation and promotion of healthy foods and in facilitating access to the most vulnerable city population groups.
NICE will work in six "front-runner" secondary cities in three countries, and encourage the sharing of experiences within and between cities. Locally led city launches took place in September 2021 in Bungoma and Busia in Kenya. These are being followed by launches this October in the Rwandan cities of Rubavu and Rusizi, and in Dinajpur and Rangpur in Bangladesh.
The Swiss partners will work closely with city authorities, local businesses, markets and civil society to create healthier urban food systems. The front-runner cities will also have the opportunity to exchange with cities like Geneva, Lausanne, Basel and Zürich, which are innovating to confront food systems challenges in Switzerland.
"SDC believes that cities play a key role in food systems transformation towards a more sustainable consumption and production, addressing malnutrition of vulnerable people while transforming their local food systems to be more resilient." said Carmen Thönnissen, Co-Lead Global Programme Food Security, SDC. "Switzerland contributes to NICE as we believe the project will be a way to support the implementation of the Committee on World Food Security Voluntary Guidelines on Food Systems for Nutrition. We also hope that insights gained from NICE will be shared with the UN Food System Summit's Coalition "Healthy Diets from Sustainable Food Systems" supported by Switzerland."
Partners
The Swiss Tropical and Public Health Institute (Swiss TPH) is a world-leading institute in global health with a particular focus on low- and middle-income countries. Associated with the University of Basel, Swiss TPH combines research, education and services at local, national and international levels. Over 800 people from 80 nations work at Swiss TPH focusing on infectious and non-communicable diseases, environment, society and health as well as health systems and interventions.
Sight and Life (SAL) is a global nutrition think tank, which delivers science-based solutions to eliminate all forms of malnutrition among vulnerable populations. As a pioneer of nutrition solutions, Sight and Life translates nutrition science, fosters public private partnerships for improved nutrition and uses consumer insights to develop viable social business models.
ETH Zürich (The Sustainable Agroecosystem Group, The Sustainable Food Processing Group and The World Food System Center) commands globally recognized expertise in agriculture, agroecology, food systems, and city region resilience. Moreover, ETH pioneers women engagement in the still largely male dominated agricultural sector, works extensively on value chains, while having global links to C40, the Food and Agriculture Organization, African cities, and being involved in building rural-urban links in the Swiss city of Lausanne.
The Syngenta Foundation for Sustainable Agriculture (SFSA) is non-profit organization based in Basel, Switzerland. Its vision is a bright future for smallholder farming. SFSA works with a wide range of partners. Together, they provide smallholders in Africa and Asia with innovations to improve food security, income and resilience.
The Swiss Agency for Development and Cooperation (SDC) is the agency for international cooperation of the Federal Department of Foreign Affairs (FDFA). The SDC is responsible for the overall coordination with other federal authorities of development and cooperation with Eastern Europe as well as for humanitarian aid delivered by the Swiss Confederation. The SDC aims to alleviate need and poverty around the world, to foster respect for human rights, to promote democracy and to conserve the environment. It fosters economic self-reliance and state autonomy, contributes to the improvement of production conditions, helps address environmental problems, and ensures better access to education and basic healthcare services.
Subscribe to our newsletter and get all the latest research news, project updates, course and event listings from Swiss TPH.