New Project on Child Health in Tanzania
04.04.2019
Fondation Botnar has awarded CHF 7 million to researchers from Lausanne for further deployment of electronic diagnostic and treatment tools based on algorithms, which will help clinicians to manage febrile children. The research project is led by Unisanté and the École Polytechnique Fédérale de Lausanne (EPFL), in collaboration with Swiss TPH and two research institutes in Tanzania: Ifakara Health Institute (IHI) and National Institute for Medical Research (NIMR). The project could avoid millions of clinical failures and tens of millions of unnecessary prescriptions of antibiotics every year, in Africa and perhaps one day in Europe.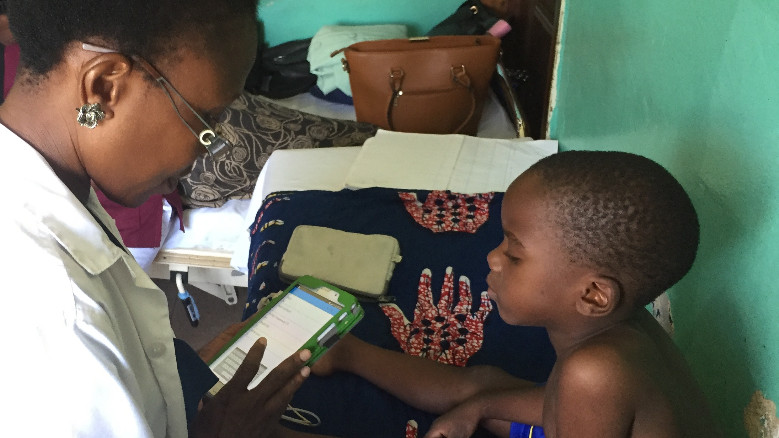 Each year, around 3.3 million children die from acute febrile episodes worldwide, especially in countries with low-resources. The lack of diagnostic tools and clinical guidance to front-line health workers strongly contribute to this situation, and leads at the same time to unnecessary antimicrobials prescribed to "be on the safe side". Around nine in every ten children attending primary health care establishments in Tanzania receive an antibiotic, although only one in ten really need it. This over-prescription is a major factor in antibiotic resistance, which is one of the world's most serious health problems and a major healthcare challenge. Moreover, when an epidemic breaks out, young children are the first victims of resistant infections which can no longer be tackled using first line antibiotics and contribute in turn to this high mortality.

New funding to develop dynamic algorithms
Thanks to their long experience in developing decision support algorithms that guide primary care clinicians all along the management of their febrile patients, Unisanté has obtained support from Fondation Botnar, a Swiss foundation with the core purpose of improving the health and wellbeing of children and young people in growing secondary cities around the world by leveraging artificial intelligence (AI) and digital innovation. The funding of CHF 7 million will enable the teams from Unisanté, EPFL, Swiss TPH, IHI and NIMR to develop novel algorithms enhanced by machine-learning and roll it out on a larger scale. The research project, named DYNAMIC, will start on 1 April 2019 and will be conducted in Switzerland and Tanzania, over a five-year period.

First and second-generation clinical algorithms
The identification of the causes of fevers in Tanzania enabled the development and implementation of a first generation electronic algorithm using tablets, as a basis for personalised evaluation and management of patients (ALMANACH). The second generation of this mobile tool, connected to biosensors and rapid point of care tests (ePOCT), guides health professionals throughout the consultation. It helps them identify the patient's personal characteristics and assess whether prescription of an antibiotic is necessary for this patient or, most often, useless. The use of this second-generation electronic tool has proved highly effective in the treatment of children suffering from fever. It has enabled a drastic reduction in the misuse of antibiotics, from 95% to 11%.

Innovation supporting personalised medicine
By drawing on simple, cheap technological innovation, the new ePOCT+ tool has the potential to significantly improve treatment and health outcomes for sick children. ePOCT+ will benefit from significant technological and analytical innovation. It is hoped that it will adapt to epidemics in real time and to revolutionise the clinical response to changes in the environment, both at individual and population level.
The new mobile tool should improve the identification of children suffering from a serious illness requiring immediate treatment, so reducing mortality. The rational use of antimalarials and antibiotics should also lead to more reliable and rapid cure for the most frequent infections and reduction in drug resistance. At the public health level, computerised surveillance will improve the early identification of localised epidemics and support both the modification of the patient care algorithm and the implementation of appropriate interventions, such as vaccination campaigns or other preventive measures. At national level in Tanzania, the tool could thus avoid 1 million treatment failures and 28 million unnecessary prescriptions of antibiotics every year.