Management Courses for Health Leaders and Professionals
To advance global and public health, effective management and leadership skills are crucial. Whether you are an experienced manager or an aspiring leader, our portfolio of management courses is designed to provide targeted, practical training. These MBA courses can help you enhance your leadership skills, drive transformational change, and shape the future of health systems.

Explore Our Diverse Range of Global Health Management Courses
Our courses cover a range of topics at the intersection of leadership, management and global health. These include transformational and strategic management of people, organisations, technology and financial resources, and the analysis and design of health systems to promote better outcomes and equity. This broad portfolio ensures that you can find the ideal course to meet your needs and career goals. The majority of our management courses are tropEd accredited.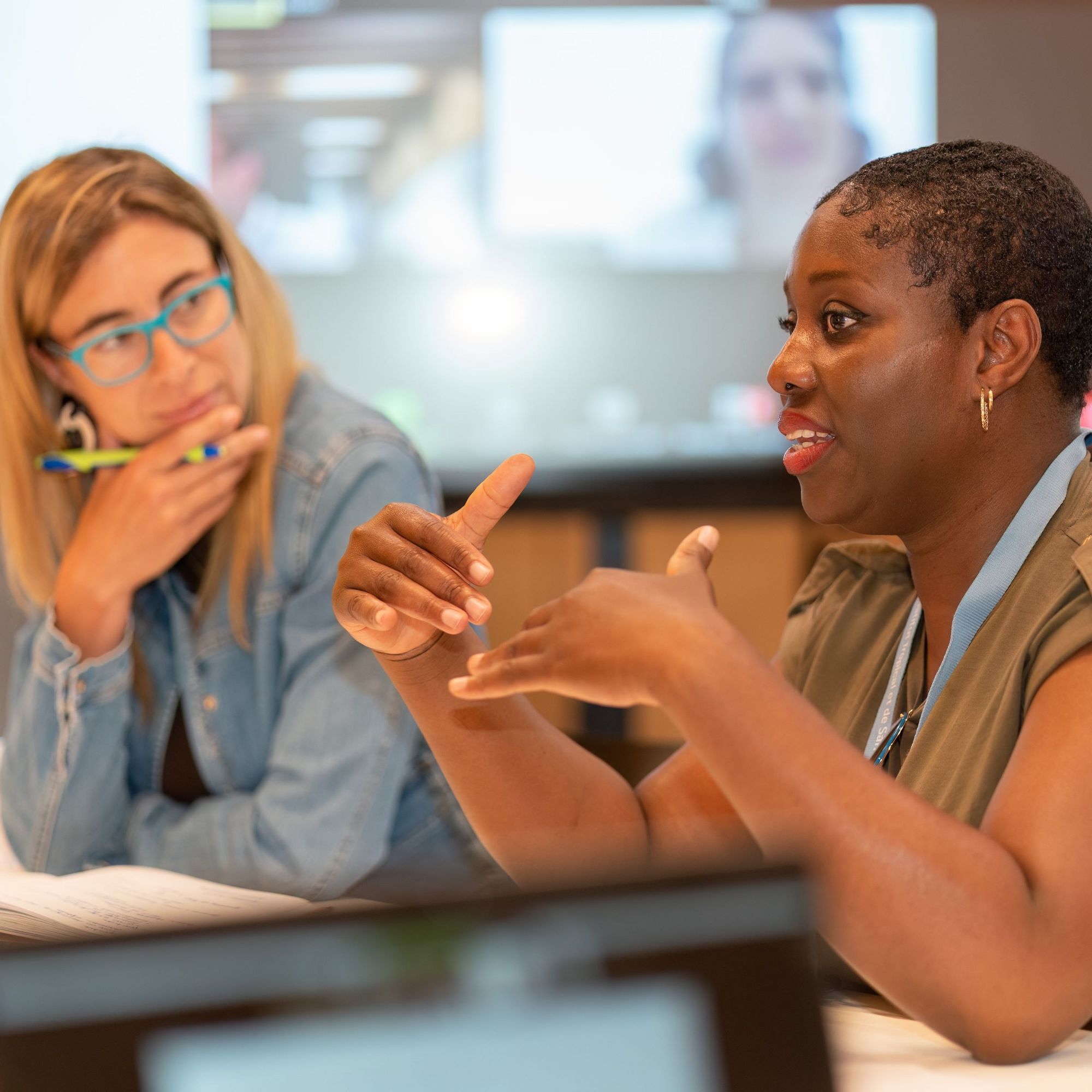 Why Choose a Management Course at Swiss TPH?
Associated with the University of Basel, Swiss TPH uniquely combines research, education and services at local, national and international levels. We are committed to providing engaging management courses that meet the dynamic needs of global health leaders.
Discover why Swiss TPH is the best place for you to complete a management course in global health:
Individualised, Innovative and Interactive Learning
Following our principle of mutual learning for change, we build on your individual experience and connect it with cases, concepts, theories and the personal expertise of our teaching faculty and students. Combining asynchronous and synchronous learning phases, we use a wide range of state-of-the-art teaching methods to ensure the best possible learning experience.
Flexible Training for Busy Professionals
Our courses are designed to meet the needs of busy, career-oriented professionals. Each course is divided into two self-paced distance-learning phases linked by a hybrid face-to-face week: five days of discussions, case studies, group work, quizzes and presentations, either on-site at the Swiss TPH's headquarters on the outskirts of Basel, Switzerland, or online from abroad.
Unlock New Career Opportunities through Networking at Swiss TPH
Our participants come from all levels and sectors of the health system. They work for UN agencies, the pharmaceutical industry, international organisations, ministries of health, hospitals and NGOs, to name but a few.
You will also have access to our dedicated alumni network, with lifelong connections and opportunities for personal and professional development, for example through our regular community events. In addition, your professional horizons will be broadened through our partnerships with prominent global organisations like the International Committee of the Red Cross (ICRC) and the Global Fund, as well as our involvement in national and international educational networks such as the Swiss School of Public Health (SSPH+), the tropEd network and the Consortium for Advanced Research Training in Africa (CARTA).
Application Process and Entry Requirements
To enrol on one of our courses, you need a bachelor's degree and at least two years' relevant work experience, as well as a passion for global and public health. As all management courses are taught in English, strong oral and written English language skills are also required.
Please refer to the individual course pages for application deadlines and the digital application process on our website.
To attend a course, the fee must be paid before the course starts.

Frequently Asked Questions About Our MBA Courses
Each course follows our blended learning approach, offering the benefits of both self-paced and face-to-face phases.
Our management courses are typically divided into three phases:
In the distance-based preparation phase, participants familiarise themselves with the topic by studying materials and completing an assignment under the guidance of the facilitators.
This is followed by a hybrid face-to-face week, where participants engage in five days of discussions, case studies, group work, quizzes and presentations, either on-site at Swiss TPH's headquarters in Allschwil, Switzerland, or online.
In the self-paced post-phase, participants consolidate their learning outcomes through the development of a final assignment, supported by the course facilitators.
After registering successfully, we will send you an invoice. Kindly transfer the required amount to the following account by the due date.
Students enrolled in the full MBA International Health Management programme, students enrolled in an SSPH+ Professional Postgraduate Master or PhD programme and tropEd students are eligible for a reduced course fee. Swiss TPH and the University of Basel do not offer scholarships for management courses.
We are happy to answer any questions you may have about our Management Courses. Contact us by email at courses@swisstph.ch or by phone on +41 (0)61 284 82 80. We are here to help you find the right course for you.