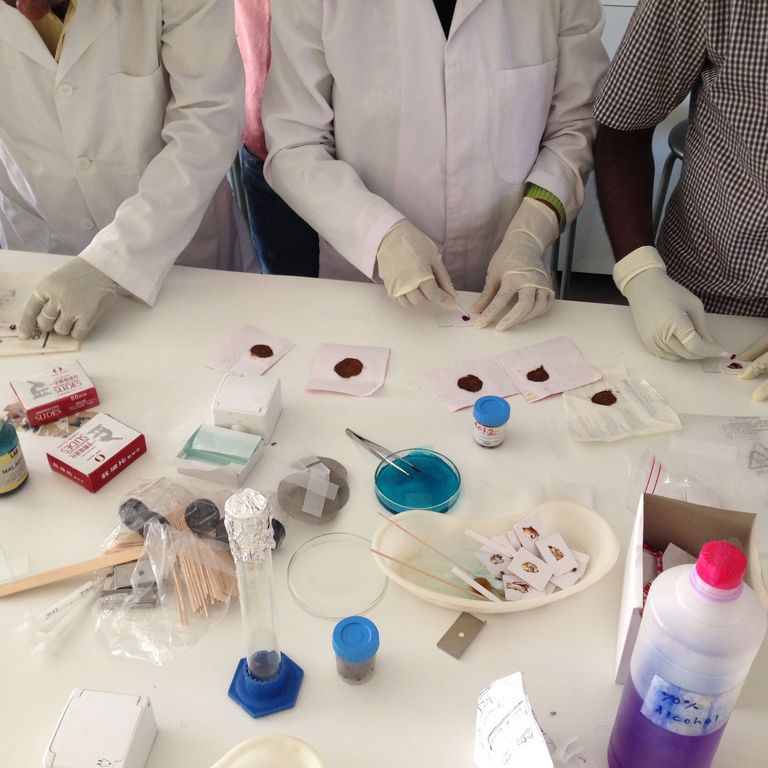 Neglected Tropical Diseases
Neglected Tropical Diseases (NTDs) are a group of 20 conditions mainly found in tropical and subtropical areas. Most NTDs are infectious diseases and many are caused by parasites. Globally, NTDs still affect 1.6 billion people while several NTDs are close to elimination. Most affected are poor, marginalized and thus vulnerable populations but some NTDs also affect better off societies.
Swiss TPH has a long tradition of work pertaining to NTDs, from basic research to training, diagnosis, treatment and elimination efforts. NTDs of particular interest to Swiss TPH specialists include Buruli ulcer, Chagas disease, food-born trematodiases, human African trypanosomiasis (sleeping sickness), leishmaniasis, leprosy, rabies, schistosomiasis and soil-transmitted helminthiasis. By this, Swiss TPH contributes to the successful outcome of SDG No. 3 particularly in the Global South.
From Innovation and Validation to Application
Swiss TPH has unique expertise in NTDs by combining its strengths in research, education and services. We work along a value chain from innovation to validation and application. Our work covers helminth and protozoan drug development, modelling transmission and control for strategic planning, and the validation of approaches and tools for the control and elimination of several NTDs including leprosy, rabies and schistosomes. We also work in capacity building and health education with a focus on soil-transmitted and food-borne helminths, schistosomes, trypanosomes and mycobacterial NTDs. Swiss TPH offers expertise in the application of qualitative and mixed methods, from community-led needs assessment to patients' therapeutic itineraries and impact of universal health coverage on diagnostic and curative equity. We work closely with transnational donors, national control institutions and elimination programmes, and offers services such as policy advice and technical assistance in project implementation and outcome evaluation.
A particular expertise of Swiss TPH is conducting clinical trials under challenging conditions, parasite diagnostics and multi-year intervention studies combining several approaches for the sustainable control and elimination of NTDs, with a focus on intestinal helminth and schistosome infections. Geographically, our work currently focuses on Eastern, Central and Western Africa, South and Southeast Asia, China and Latin America. Across these regions, we collaborate closely with local academic institutions and NGOs. Drawing on our in-house expertise and competence in research, consulting, reporting and training, we are able to offer a unique range and depth of activities to help control and eliminate NTDs.
Swiss TPH has been researching sleeping sickness ever since its foundation and it was the first to succeed in breeding tsetse flies under laboratory conditions. Later, it was managed to develop culture systems for insects and pathogens, thereby laying the foundations for the compound screening laboratory. Find out more
Rabies is a viral zoonosis causing over 50,000 human deaths per year. The highly neurotropic virus is found in saliva of infected humans or animals. Rabies is transmitted to humans primarily through dogs (99%); this type is called "urban rabies". After an infection, the disease is fatal as soon as typical symptoms appear (aggressiveness, agitation, hydrophobia). The only possibility to prevent human deaths is a post-exposure prophylaxis shortly after infection. Mass vaccination of susceptible animals and public education led to the elimination of the disease in many countries. But in many low-income settings, such as for instance in Chad, poverty, the lack of transport and knowledge hinders successful control of rabies. Read more about our work in eliminating rabies