Improving the Quality of Care in Tajikistan through Medical Education
25.09.2019
With two-thirds of Tajikistan's population living in rural areas, primary healthcare remains a critical component in the drive to make quality healthcare more accessible, with medical education playing a key role. The Swiss Agency for Development and Cooperation (SDC) Medical Education Reform Project, which is implemented by Swiss TPH, is committed to improving primary healthcare services and medical education in Tajikistan, ultimately contributing to the goal of Universal Health Coverage (UHC).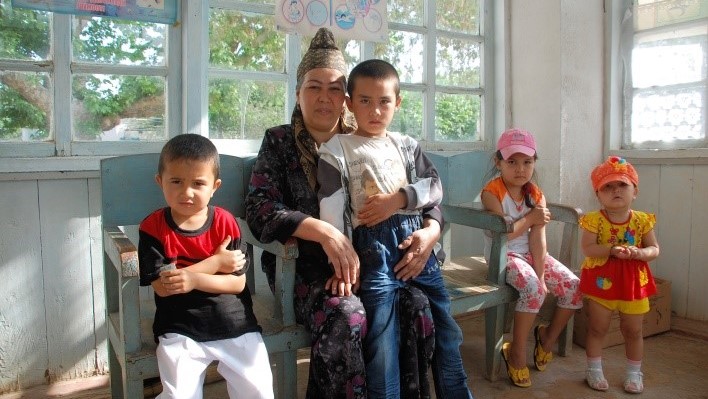 Tajikistan: a country rebuilds
Since Tajikistan gained independence in 1991, much has been done to move away from the heavily centralised and specialist-focused healthcare system that existed in the Soviet era, to a primary healthcare system that emphasises the concept of family medicine. As the country still grapples with rebuilding an economy that was devastated by a civil war that waged on until 1997, healthcare efforts also lag behind.
Tajikistan is currently the poorest country in Central Asia with a dual burden of infectious and non-communicable diseases, with cardiovascular disease responsible for nearly 40% of all deaths. Rural populations in particular often face healthcare barriers such as a lack of well-trained doctors and nurses, stock-outs of medicines and other supplies, and poor infrastructure, making quality treatment and care inaccessible.
The Medical Education Reform Project (MEP) aims to strengthen the quality of primary healthcare in Tajikistan through the reform of undergraduate and postgraduate training and the introduction of new forms of continuous professional development to build a robust workforce of well-trained family doctors and nurses. The MEP works with the Ministries of Health and Education, the Republican Centre for Family Medicine, the Tajik State Medical University, Nursing Colleges and the Post Graduate Medical Institute, with inputs from the Institute of Nursing Science in Basel and the University of Calgary.
20 years of health system strengthening
Switzerland has been supporting health system strengthening in Tajikistan for 20 years, with the last 10 years having a particular focus on medical education reform. The aim is to modernise the training of doctors and nurses by putting a greater focus on practical and clinical skills, communication techniques, and by providing early exposure to rural practice realities with students working directly with patients under the guidance of experienced colleagues - as is routinely done in Switzerland.
"The MEP has generated a wealth of knowledge and experience across undergraduate, postgraduate and continuous professional development that are highly relevant for other countries in the region - as well as in other countries where SDC is active like Albania and the Ukraine," said Helen Prytherch, Head of the Health Systems Support unit at Swiss TPH and project leader of MEP. "We will continue to use our expertise in capacity building from Switzerland and our experiences thus far in countries like Tajikistan, tailoring our knowledge to other countries and contexts."
To achieve the health-related Sustainable Development Goals, Switzerland promotes UHC through activities that establish social protection mechanisms in health and advocate for access to quality healthcare. SDC in particular supports the financing and implementation of UHC-related projects in low- and middle- income countries, such as in Tajikistan.
"The past 20 years of Swiss involvement in Tajikistan have been challenging yet incredibly rewarding after seeing the large impact made, especially in areas such as medical education reform. When implementing projects that address health system strengthening and strive towards the goal of UHC, we must bear in mind that obtaining political and financial commitment is critical for ensuring the longevity and sustainability of projects, such as the MEP," said Mrs. Corinne Demenge, Deputy Director of the Swiss Cooperation Office in Tajikistan.
Mobilizing a workforce through medical education reform
Despite the high number of trained medical students from Tajikistan, rural areas continue to lack qualified family doctors and nurses, leaving the country ill equipped to manage its dual burden of disease. This situation is compounded by the brain drain of skilled workers, as a high proportion of professionals migrate to Russia or other, more prosperous countries in search of better opportunities to support themselves and their families.
In response to this, the MEP implemented not only undergraduate and postgraduate courses, but also an additional year of medical training to promote practical skills, and a 2-year specialty training in family medicine called the Post-University Speciality Training Programme (PUST). PUST involves the graduates working directly in clinical practice under the mentoring of experienced family doctors. PUST has been completed by 105 residents, with all deployed to work as family doctors in rural districts.
"The training to become a family doctor in Tajikistan is a difficult one, but the reward makes it worth it; I am able to give back to my community to ensure that my family, friends and neighbours have access to the healthcare they need," said Shamsiya Davlyatova, a former medical student who went through six years of training and completed the PUST to become a family doctor.
Bringing the knowledge back home
Shamsiya Davlyatova is a young medical doctor who grew up in village called Rudaki in Tajikistan with a population of 15,000 people. Davlyatova was raised in a close-knit community and had a keen interest in medicine, which was sparked by observing the family doctors in her community. "I was often inspired by the family doctors who knew their patients and their families so well," remembers Davlyatova. "They were a part of our lives and were better equipped to serve, as they knew the family history and could often identify problems at a much quicker rate than specialist doctors."
After an intensive six years of training and an additional two years in PUST at the Tajik State Medical University, Davlyatova returned to her hometown of Rudaki to become a family doctor. "I'm having my own territory to serve patients - an area with 2,000 people. I have the opportunity to become just like the doctors that I grew up with, and give back to the community that raised me," said Davlyatova. "Now, I work hard to stay up-to-date by taking part in peer groups, so that I'm able to exchange ideas with my fellow doctors." Peer groups are a sustainable model of continuous education that the MEP has promoted to allow family doctors and nurses to discuss clinical and other difficulties from their everyday practice in an informal setting.
A daunting, yet manageable challenge
As the percentage of people living in rural areas is rising at a faster rate than in urban areas, providing healthcare to the rural population remains an immense challenge. Through the strengthening of primary healthcare and the building of a workforce of well-trained doctors and nurses, the MEP contributes to the improvement of health outcomes in Tajikistan and acts as a model for other countries working towards achieving UHC through medical education.
Stay connected
Subscribe to our newsletter and get all the latest research news, project updates, course and event listings from Swiss TPH.